Game of Life - A Review of a Family Classic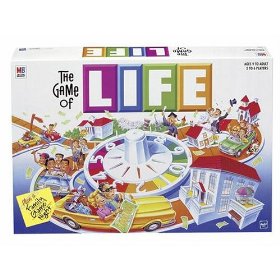 Coming from a fairly large family of seven, board gaming was an integral part of our growing up and the Game of Life is one of those classic games I played and loved as a child. Whenever the games were brought out, it was always on the top of my list. The cars and distinct people pegs, that unmistakable sound of the spinner turning, and all of the cool spaces to land on were just a few of the draws that I latched on to. Can that wonder hold up against an older, less forgiving critic?
The Game
I won't go into too much detail as I am pretty sure most everyone knows how the Game of Life is played. In short, the game takes the player from approximately being college aged to retirement, going through life events such as choosing a career, getting married, buying a house and having children. Between the major life happenings, the player can also experience plenty of other events that span the winding game track: some that could qualify as midlife crisis, like buying a beach house or plastic surgery, and other, smaller occurrences such as receiving stock, upgrading a computer, etc. The game ends when all players retire and the person with the most money is declared the winner.
I do want to note that the version that I am basing this review on is not the same version that I used to play as a child. This review will be done on 2002 version using the 10/02 rev.2 rule set and I can only guess at what version I used to play. It was during the 1980's when I was first introduced, so I am assuming that I played that decades version. I do remember driving Chrysler-esque minivans along the board and according to the Wikipedia entry on The Checkered Game of Life, the minivans were introduced in the 1980s reinforcing my theory.
Game Pieces
It's not really fair for me to comment about the quality of the game pieces in this review as my "gently used" copy came from a local Savers thrift store at a whopping cost of $3.99. I will say, however, that the spinner has not changed much with this version. If you spin it incorrectly it will jam up and not spin, which is exactly as I remember it. As much as I love the distinguishing uniqueness of the spinner, no one should have to battle against a game to get it to function correctly. I also wish Hasbro would have included additional Bank Loan notes. Between the 100,000 in college loans and having to buy a house only a few spins later, my wife and I managed to eat up nearly all the notes in most of the games we played. If there were more players, we would have had to come up with a solution. It's hard to say if the problem was due to missing pieces when I purchased the game or if it was shipped with what I had, but it looked like the game was only played once before I bought as only one blue and one pink people pegs had been detached from their plastic housing.
Game Play
For such a complex looking board, Game of Life is one of easiest board games to understand and play. Spin the Spinner, move number of spaces indicated, and then perform action indicated on the space landed upon. Every turn is that or a variation of that, whether it be stopping for a required Stop space, paying out Pay Days that are passed regardless of stopping on them or not, and landing on an optional-to-play blue space.
There are some differences in this version compared to the 1980s version. One is that stocks certificates are purchasable and the player earns money for each time the Spinner lands on the number of the stock. Gone are the times of buying chances of hitting it big on the betting board, which makes me sad. I enjoyed spinning for the winnings Another variation is that no spins are made for money at marriage and adding children, instead you get Life Tiles (discussed below); how dull. I seemed to remember giving money to the person who ended up getting married first, which added some value to being in the lead. Also in this version kids are absolutely worthless. There is one, maybe two, spaces on the board where you owe money based off the amount of children you have, but other than that, they just add color to your car. And those Life Tiles, what are those about? They only make the game even more random. I could understand if there were more interactions with them throughout the game, like what happens with the Athlete career, but there aren't. There are a few other minor variations, selling your house (for potential profit) and purchasing a new one, night school, and changes in available insurances, but they are fairly insignificant to the game.
Final Thoughts
Whether it be the changes in the rules or just the fact that I am not a kid anymore, but the Game of Life just doesn't hold on to the appeal that it used to have for me. I still find the game fun, but I don't have that wonder of experiencing the story of the game that I used to. My mind is now more focused on critically examining the mechanics of the game and it doesn't hold up as it is completely luck based. It's all in the draw of your career/salary cards, the number that turns up on the spinner, and the value of the Life Tiles at the end of the game. For players who have fond memories of older versions, I would not suggest this version over what you are used to; however, if you have not had the chance to experience this game or want to play it with your children, then I say go for it. Your children will still enjoy this game with the excitement of experiencing all the cool events and will be fun for you as well, just not nearly as much as when you were experiencing it as a child. I give it a 2.5 out of 5.
Read More in: Board Games | Our Game Reviews
Share this Article with others:

Related Articles:
Came straight to this page? Visit Critical Gamers for all the latest news.
Posted by Critical Gamers Staff at April 18, 2011 9:49 PM