Ticket to Ride Steams It's Way Onto iPad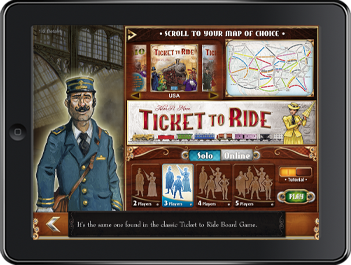 Days of Wonder have announced the release of Ticket to Ride for the Apple iPad, the fastest growing mobile and gaming device on the market. This release puts Ticket to Ride on at least four different types of media including the original board game, Xbox LIVE Arcade, and online. Ticket to Ride has been called one of the best gateway games for families and the fact that it exists now in multiple forms only serves to expand the success of Euro Games. Ticket to Ride will be available for $6.99 from the iTunes App Store for the base game and for a short time offer, the additional maps of Europe, Switzerland, and USA 1910 will be available as in-game purchases for an introductory price of $0.99 per map.
For additional information check out the official announcement over to the Days of Wonder website.

Read More in: Board Games | Gaming News
Share this Article with others:

Related Articles:
Came straight to this page? Visit Critical Gamers for all the latest news.
Posted by Critical Gamers Staff at May 19, 2011 10:03 PM