AEG Brings Us One of Our Most Anticipated Games of 2011 - Ninja: Legend of the Scorpion Clan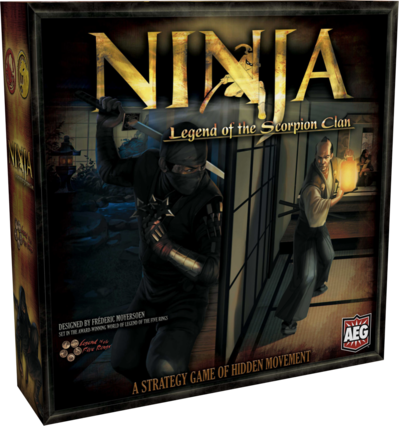 In advance of GenCon 2011 in Indianapolis, Indiana, Alderac Entertainment Group has announced what has now become one of Critical Gamers most anticipated board games of 2011. Ninja: Legend of the Scorpion Clan marks is set in the Legend of the Five Rings and marks a major milestone in the L5R property. This game looks and sounds amazing and instead of trying to paraphrase the awesomeness, we'll just let the announcement prove it to you -
The game centers around one very dangerous night at a castle in the provinces of the Lion Clan. Honorable Lion samurai stand vigilant watch around the castle, protecting it from harm. The Scorpion Clan sends one well trained ninja to infiltrate the castle for nefarious purposes... it may be to assassinate an imperial guest under the Lion's protection, or poison the well, or steal the daimyo's war plans for the coming season. Whatever the goal, the ninja has vowed to accomplish it, or die trying. Worse yet for the Lion Clan, the ninja has an accomplice: a traitor among the ranks of the Lion samurai whose true loyalty lies with the Scorpion.
Designed by the prolific Fréderic Moyersoen (Saboteur, Nuns on the Run), Ninja is a game of stealth, bluff, guile, and critical thinking for 2-4 players that has a different setup 2, 3, and 4 player games to create their own set of challenges and benefits. Ninja will have a special preview at GenCon and is expected to hit shelfs in October, which can't come fast enough now.

Read More in: Board Games | Gaming News
Share this Article with others:

Related Articles:
Came straight to this page? Visit Critical Gamers for all the latest news.
Posted by Critical Gamers Staff at June 17, 2011 8:38 PM