Warhammer Invasion LCG - The Enemy Cycle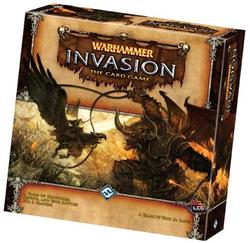 The innaugral cycle of the fantastic Warhammer Invasion Living Card Game is coming to a close. We're not sad, oh no, we're stoked. Why? Well FFG has committed itself to the franchise and is slated to bring bringing us a whole new set of cards just as the WoW TCG cycle winds down (hopefully not for good).
But that's just filler. We're really stoked for two specific reasons. For one: the new set attempts to give the franchise focus. The foundation has been set with the Corruption Cycle over the last 6 months, but now we're moving onwards from petty battles and heading into full out war. Specific factions will square off against each other. Balanced, bloody, old-school vendetta style.
Secondly FFG had previously announced that the new LCG format will include even more cards per deck starting with this second cycle. In fact, each expansion will include 3 of every single card in the set. No more rarity scales and getting just 1 or 2 of the cards that you really want and having to buy a second copy of the expansion. Now you'll get 3 of each. Sweet.
Here's a snippet from "New Leaders and Ancient Enemies" which announces the next set, introduces the new designers, and provides details of where the franchise is going:
---

"I can't say too much yet, but The Enemy Cycle continues to explore the depth of each faction, providing them with new tools to expand upon their strategies to win. This cycle places an emphasis on the natural rivalries that take place between the six factions in the game - Dwarfs vs Orcs, Empire vs Chaos, and High Elf vs Dark Elf. What's more, the Battle Packs will contain a series of short stories that serve as a primer for those of you Invasion fans who aren't entirely familiar with Warhammer Fantasy but want to learn about your favorite faction."

---
We love some good back story to why orcs are motivated to bash dwarven heads in -- that's a nice touch! We'll keep you posted as more details emerge.
Read More in: Card Games | Collectable Card Games | Gaming News
Share this Article with others:

Related Articles:
Came straight to this page? Visit Critical Gamers for all the latest news.
Posted by Critical Gamers Staff at March 23, 2010 5:15 PM