Deathmaster's Dance Jigs Your Way for Warhammer Invasion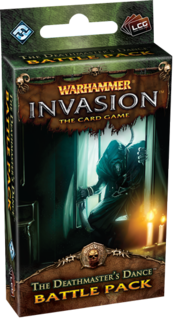 The latest expansion to the Warhammer Invasion Living Card Game has hit shelves. The Deathmaster's Dance [Amazon, Funagain] is the game's 4th release and includes 40 more cards to fill out the premier Corruption Cycle.
And of course in true FFG style there are preview articles for you to read and get a taste before you buy. First up the Chaos get a giant Nurgle of doom with the Great Unclean One. We dare you to french kiss that hot sauce. Meanwhile the Empire previews include the group buffing Ulric's Fury which gives a band of your defenders a temporary counterstrike ability, Flagellants meat shield.
Here are the expansion's official details:
---

"The Order forces have put up a valiant fight against the relentless spread of the Skaven, but now a new threat has arisen, a threat that goes by name of Deathmaster Sniktch...

The Deathmaster s Dance is the fourth monthly Battle Pack installment of The Corruption Cycle, the first linked expansion series for Warhammer: Invasion, a card game of intense warfare, clever kingdom management, and epic questing. This 40 card pack contains 20 different never-before-seen cards designed to augment existing decks and add variety to the Warhammer: Invasion metagame."

---
For more information about the expansion check out the official FFG Article: The Master of the Pack. The Deathmaster's Dance is now shipping from Amazon and Funagain Games.
Read More in: Card Games | Collectable Card Games | Gaming News
Share this Article with others:

Related Articles:
Came straight to this page? Visit Critical Gamers for all the latest news.
Posted by Critical Gamers Staff at March 11, 2010 4:43 PM