Victory Point Games Releases TC Tennis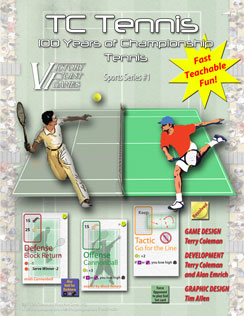 Here's something not seen everyday: A release announcement for a game that combines sports and strategy in a card game package. Well, Victory Point Games decided it was time for one. Today they announced the release of TC Tennis, their first ever sport strategy game. While known for their historical military games, VPG has branched out this time. While it appears to be similar to
En Garde in terms of strategic card playing, TC Tennis aims to score an ace in a seldom used genre for the card and board game industry.
Here are the official details:
TC Tennis Now Released!
Designer Terry Coleman has served up VPG's first ever sports strategy game, TC Tennis, allowing you to pick from 24 of the greatest tennis champions in history. Pit them against each other in a fun, fast-paced game, strategizing which players are best at certain Strokes, and finding which court best fits your style. Do you risk hitting a Cannonball Serve, knowing that your opponent might have secretly played a card that negates it? Can you keep using Go for the Lines as a Tactic, knowing that you might miss, and hurt your scoring chances?
Whether you're a tennis pro or an Average Joe, this is an ace of a game for everyone to enjoy. Will you lead your favorite players to victory? Put the ball in your court with TC Tennis!
At TC Tennis
Read More in: Card Games | Gaming News | Odd Games
Share this Article with others:

Related Articles:
Came straight to this page? Visit Critical Gamers for all the latest news.
Posted by Critical Gamers Staff at January 27, 2011 7:11 AM