Ticket to Ride: A Must-Have for Any Board Game Enthusiast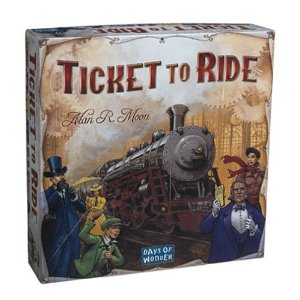 Since entering the scene in 2004, Ticket to Ride, designed by Alan R. Moon and published by Days of Wonder, is a favorite of many board gaming fans. Ticket to Ride is a cross-country train adventure where players collect cards of various types of train cars and then use those cards to purchase routes between two locations on the board. The player continues to purchase routes in an effort to connect two specific locations determined by destination cards drawn at the beginning of the game.
Ticket to Ride is meant for 2-5 players, ages 8 and up, and takes about 30-60 minutes to play. It has won many awards including the 2004 Game of the Year in Germany. With the five official expansions (Mystery Train, USA 1910, Europa 1912, Switzerland, and Dice Expansion) and four spin-offs (Europe, Märklin, Nordic Countries, and Ticket to Ride: Card Game) there is plenty of variety to keep any board game fan entertained!
Read More in: Board Games | Card Games | Variants
Share this Article with others:

Related Articles:
Came straight to this page? Visit Critical Gamers for all the latest news.
Posted by Critical Gamers Staff at January 28, 2011 7:12 AM