Fight the Dark Forces of Mordor with Lord of the Rings Living Card Game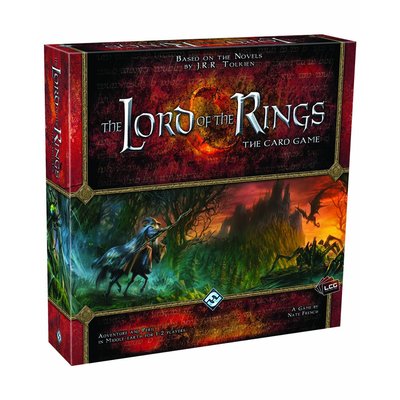 Fantasy Flight Games has made a lot of fans happy yesterday with their release of Lord of the Rings: The Card Game. Lord of the Ring fans, card game fans, and cooperative fans can all rejoice at this latest offering and considering that I fall into all three of those categories, I am beyond stoked. Meant for 1-2 players (up to 4 with two core sets), the Lord of the Rings is being dubbed as the first cooperative living card game on the market. Players build their decks with characters easily recognized from J.R.R. Tolkien's fiction and based off four different spheres of influence (tactics, lore, spirit, and leadership) and must work together to stop the forces of Sauron. Boasting 226 cards that can be separated into multiple decks, the core set will include 3 perilous quests that use different combinations of monsters and settings that will give the players a different experience each time they play. The Lord of the Rings is being marketed as a living card game, so expect monthly adventure packs to continue to expand and enthrall players. The Shadows of Mirkwood cycle has been announced with three different adventure packs to be available soon: The Hunt for Gollum, Conflict at the Carrock, and A Journey to Rhosgobel. Pre-orders for The Hunt for Gollum can be placed at Funagain Games and stay tuned to Critical Gamers for all your adventure pack info.
Read More in: Card Games | Gaming News
Share this Article with others:

Related Articles:
Came straight to this page? Visit Critical Gamers for all the latest news.
Posted by Critical Gamers Staff at April 21, 2011 8:12 PM