Victory Point Games Announces Battle of 4 Armies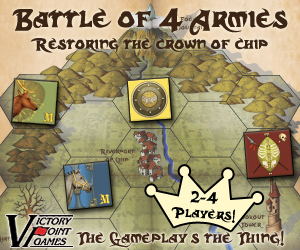 Courtesy of Victory Point Games release announcement -
From designer Nathan Hansen comes a quick paced, deep decision rich, abstract strategy BattlessonTM game, Battle of 4 Armies.
Match your skills against up to three opponents, for your goal is the Crown of Chip! Through the judicious used of unit placement and maneuver, you struggle to capture opposing units to knock them out of play, or hold the majority named spaces on the board.
With pressure for the center of the map and maneuver around its edges, players have myriad ways to approach every turn of this absorbing game!
Make your move and be the one to restore the crown in the Battle of 4 Armies!
Read More in: Board Games | Gaming News
Share this Article with others:

Related Articles:
Came straight to this page? Visit Critical Gamers for all the latest news.
Posted by Critical Gamers Staff at May 16, 2011 10:58 PM