Twilight Imperium: Shards of the Throne Expansion Released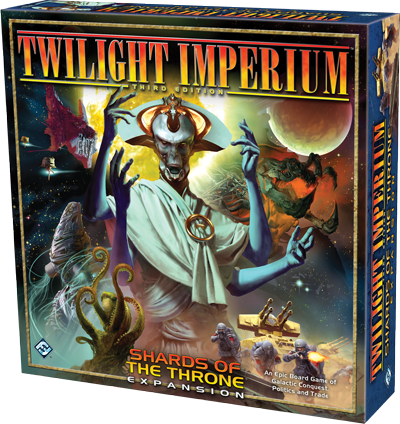 Shards of the Throne [Amazon, Funagain], the latest expansion for Twilight Imperium 3rd Edition, is now on sale. The latest expansion includes three new races: the Ghosts of Creuss, beings made of light and energy; the Nekro Virus, a machine whose sole purpose is to destroy biological life forms; and the Aborec, a plant based sentient ecosystem. Also included are new alternate Strategy Cards, units, and the Political Intrigue option which allows you to influence the Galactic Council; however, be warned that your enemies might try to undermine you. Want even more? Not a problem with Shards of the Throne as it comes with a scenario that allows one player to take on the role of the Lazax, Race-Specific Technologies, Preliminary Objectives, new Domain Counters, and new System Tiles, there is tons of new content to conquer and control the galaxy with.
Read More in: Board Games | Gaming Culture | Gaming News
Share this Article with others:

Related Articles:
Came straight to this page? Visit Critical Gamers for all the latest news.
Posted by Critical Gamers Staff at May 29, 2011 8:48 PM