Kickstarter Projects Worth Backing! - 5/30/11

One of the greatest things about our society is that there is always fresh content and ideas being put out there for the world to enjoy. The analog gaming industry is no different in this aspect The industry has a long and storied history that has given our and many other generations the creativity and drive to turn ideas into products that have brought families and friends closer together, and sometimes even farther apart (sorry about that John). With Kickstarter the power has been put into the hands of the common man, check out some of the latest and greatest submissions and decide whether you want to be a part of bringing these ideas to life!
Dark Horse is being published by Knight Works out of Colorado and looks to bring the Wild West into your kitchen. In Dark Horse, players must control resources while expanding their territories through railway connections between cities and towns. The games uses an interesting mechanic for player actions; the players roll two colored dice and choose their action based off the outcome. For example, the player must roll a natural 3 in order to choose the Politics action. Also, each player chooses a starting character such as the Banker or Cowboy and receives different bonuses depending on which character they played. Head over to the Kickstarter page for more details about this upcoming title and to pledge your support.
At Dark Horse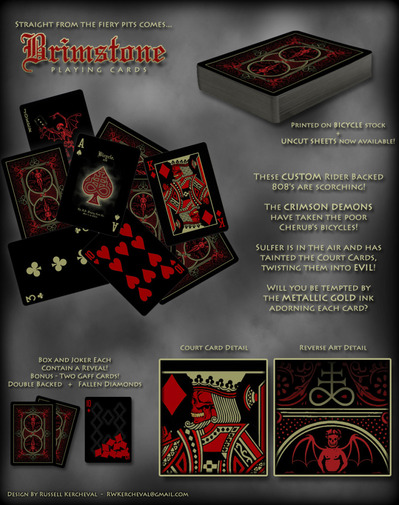 So this isn't a game per say, but Brimstone is related and pretty cool if you don't mind me saying so. You might have heard the old saying "don't reinvent the wheel" or something similar in your life, and while I agree, it doesn't necessarily mean we can't try to make it badass looking and that's all the Brimstone is trying to do here (with great success in my humble opinion). Brimstone will be using Q1 325 card stock and will have Bicycle's 'Magic Finish', so these are some serious cards. From what I have read so far, there are only a limited number of decks available due to printing limitations, so if you are interested in having the sickest looking deck of cards in your city, then I suggest you jump at this. Also, retailers there is a $500 pledge level (only 1 left available) that nets you 100 decks. If you sell them for $10 each, you will have doubled your money (I bet they go for much more after the word gets out).
At Brimstone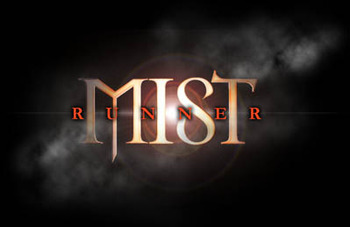 RPG fans fret not, there is content for you as well! This project is called Mistrunner and will mix some of our culture's greatest settings including high fantasy, steam punk, and post-apocalyptica. Players will choose one of eleven races, ranging from Moss Trolls, to massive bear-like creatures, to winged humanoids. Mistrunner uses a non-restrictive system that allows players to choose whatever class they wish and mix magics together that is only limited by your imagination. The release will consist of a 300+ page illustrated rule book. I also found their website that has detailed information about the world, races, skills, equipment, and guilds.
Kickstarter - The World of Mistrunner
Website - Mistrunner
Finally, we have Venture Forth. Venture Forth is an adventure game that focuses on the individual ambitions of the adventurers, in addition to the adventure itself. Achieving these ambitions, in combination of using "will" points allows the adventurers to advance and progress. All of the ambitions require the player venturing forth through paths laden with enemies or adventure cards and handling these encounters that could consist of recruiting adventurers, defeating the enemies, gaining treasure, or experiencing increasing despair. Check out their project page, but be warned, it might be considered not safe for work due to a little Gorgon side-boob (but don't stare it at, you might turn to stone!).
Read More in: Board Games | Card Games | Gaming Culture | Gaming News
Share this Article with others:

Related Articles:
Came straight to this page? Visit Critical Gamers for all the latest news.
Posted by Critical Gamers Staff at May 30, 2011 8:56 PM