The First Mansion of Madness Expansion Available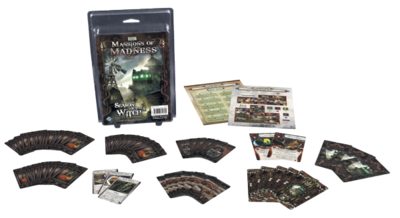 Fantasy Flight has released it's first expansion for Mansions of Madness called Seasons of the Witch. Seasons is not your typical expansion in that it uses FFG's Print on Demand system, not to be confused with Print and Play, where players purchase the expansion and then the order for print is entered. This helps FFG's overhead of having to produce a significant amount and hope they can sell through. The quality received is not going to be compromised and players should still see the quality we expect from FFG. The expansion contains the following:
Three double-sided reference sheets
Two Keeper Action cards
Five Event cards
Three Objective cards
37 Clue and Exploration cards
11 Lock and Obstacle cards
Here is the teaser text from the official product page -
A bright young Miskatonic University student has disappeared, having checked in to an infamous Arkham boarding house to study its reported supernatural properties. Now, as the celebration Walpurgis Eve approaches, you and your fellow investigators are tasked with venturing into the decaying Witch House and solving a mystery that has plagued Arkham for generations. But are you prepared to face the horrors that await you?
I am personally a big fan of Mansions of Madness (you can read my review here - Mansions of Madness - It's a Madhouse with a Few Squeaky Floorboards) and am looking forward to this expansion, if anything to produce more variety for the awesome fans who create user generated scenarios.
Read More in: Board Games | Gaming News
Share this Article with others:

Related Articles:
Came straight to this page? Visit Critical Gamers for all the latest news.
Posted by Critical Gamers Staff at June 30, 2011 9:00 AM