Gryphon Games Launches Mirror, Mirror Kickstarter Page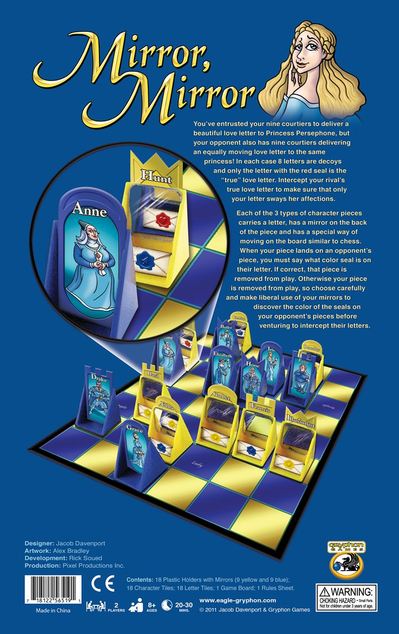 Kickstarter is becoming so popular as a crowd-funding solution that even some of the smaller publishers are starting to use it to as a tool. Granted this is their third Kickstarter project, the fact that Gryphon Games continues to use it for their ideas speaks volumes about the success they have been seeing, it's a self-created P500 list for individual titles. Mirror, Mirror is their latest addition to their Kickstarter funding efforts and attempts to turn chess upside down, or should I say reversed. Players must intercept and find your opponents letter to the Princess so yours may reach her and win her heart and hand. There are three different courtiers: Knights, Ladies, and Masters. Knights move just like Knights in chess, Masters move like the King, and Ladies more like a checkers piece by jumping over an existing piece. Each of their pieces has a mirror on the back and players must maneuver accordingly to identify and intercept the letter.
Read More in: Board Games | Gaming Culture | Gaming News
Share this Article with others:

Related Articles:
Came straight to this page? Visit Critical Gamers for all the latest news.
Posted by Critical Gamers Staff at July 1, 2011 9:00 AM