Mansions of Madness: Horror Mystery Board Game in a Box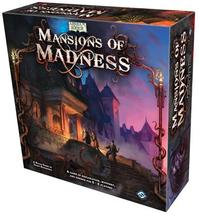 Oh man, yet another game on the horizon that we're absolutely shaking to get our hands on. Reading about Mansions of Madness gives us flashbacks to the incredible experience that is the Buffy the Vampire board game, a superb title (before we encounter Eurogames) regardless if you liked or disliked the TV series. Players in that title and in Mansions will have to cooperate to scour the board for tools to defeat the player controlled the antagonist. Unlike Buffy, though, the antagonist's plans aren't at all obvious.
And that's what makes Mansions of Madness so intriguing. There are various scenarios, but even in those scenarios the four protagonist players wont' know what the 1 antagonist player is doing behind the scenes to win the game. The antagonist is given options of a branching story, each with different end goals that he attempts to attain. He must then scatter the board with clues to his motives. The 'good guy' players must then discover the various clues, piece them together, and stop the evil master plan.
Seriously, could it get any better than this? Yes, it can. The game is set in H.P. Lovecraft's Akrham Massachusetts the horror suspense universe. The game is also designed by Corey Konieczka who carved out the Battlestar Galactica Board Game and the recent Space Hulk: Death Angel Card Game.
This title has so many things going for it: good setting, a great publisher, great mechanics and an outstanding designer. For more preview information check out the game's announcement, and the preview article "The Origins of Evil". Here are the game's official details:
---

"Horrific monsters and spectral presences lurk in manors, crypts, schools, monasteries, and derelict buildings near Arkham, Massachusetts. Some spin dark conspiracies while others wait for hapless victims to devour or drive insane. It's up to a handful of brave investigators to explore these cursed places and uncover the truth about the living nightmares within.

Designed by Corey Konieczka, Mansions of Madness is a macabre game of horror, insanity, and mystery for two to five players. Each game takes place within a pre-designed story that provides players with a unique map and several combinations of plot threads. These threads affect the monsters that investigators may encounter, the clues they need to find, and which climactic story ending they will ultimately experience. One player takes on the role of the keeper, controlling the monsters and other malicious powers within the story. The other players take on the role of investigators, searching for answers while struggling to survive with their minds intact.

Do you dare enter the Mansions of Madness?"

---
Read More in: Board Games | Gaming News
Share this Article with others:

Related Articles:
Came straight to this page? Visit Critical Gamers for all the latest news.
Posted by Critical Gamers Staff at October 1, 2010 4:25 PM