Small World Expands Again, and for Free!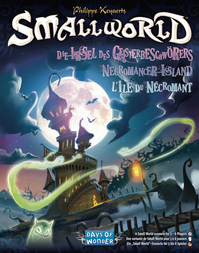 Very, very interesting. Days of Wonder has announced an expansion for release this fall for the award winning Small World. Necromancer Island is a scenario expansion for 3 to 6 players with one player playing the role of the Necromancer who spawns units from siphoning off the souls of the other player's fallen units. If he's able to place all of his ghosts before the end of the game -- he wins! Opponents, in the meantime, are playing their own game of Small World, squaring off normally as they would otherwise. However, as they fight over the island against other opponents, the group as a whole must work together to keep the Necromancer's ghost population from becoming overwhelming.
A nice intriguing little expansion. Most noteworthy, though, is that Small World Necromancer will be FREE in game stores this fall. We'll keep you posted regarding when the boxes start appearing on shelves. Until then checkout the Days of Wonder Blog for all the details.
Read More in: Board Games | Gaming News
Share this Article with others:

Related Articles:
Came straight to this page? Visit Critical Gamers for all the latest news.
Posted by Critical Gamers Staff at October 4, 2010 4:19 PM