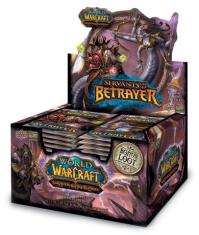 The Servants of the Betrayer [Amazon, Funagain] release marks 5th set of the solidified World of Warcraft trading card game. No longer the new kid on the block, Upper Deck now has a foundation of cards and mechanics to work with, and as the middle set release in the Outland series (between March of the Legion and The Hunt for Illidan coming later this year) the Servants of the Betrayer has the potential to both solidify the style of the game, the set, and steer the entire franchise in new directions at the same time.
But does it pull it off?
The Setting

This set release includes a standard lot of heroes, each sports new flip powers, specialization the works -- as is the norm. But Upper Deck found the story of Outland - the shattered and floating home world of the orcs that the current detailed focus is the World of Warcraft MMORPG - needed an extra oomph beyond the stock set of heroes.
Outland is ruled over by a particular bitchy demon named Illidan Stormrage who's nicknamed The Betrayer, hence the name of this expansion release. Outland's story is saturated with backstabbers, traitors, and unsavories, and Upper Deck aimed to bring that feeling home in the WoW TCG version of this setting.

Continue reading:
"WoW TCG Servants of the Betrayer Review"
Critical Gamers Staff at
Permalink