There has been a drought of Caylus ever since it stormed through stores on its initial release. Getting your hands on a copy has been a hit or miss endeavor, well, until now.
Caylus is an acclaimed city builder from Rio Grande Games, and a fad amongst those who thirst for complexity. The rules are thick, the gameplay is long (a couple of hours usually) and so Caylus isn't something you should pick up if you're just getting back into gaming. It's also a bad choice if you're bringing an outsider to the table for a quick game of 'something'. For that we'd recommend Carcasonne or Settlers of Catan.
However, if you've been the gaming scene for a while and like gobs of options at each turn, or the ability to effect the outcome of the game from multiple fronts, then Caylus is a great pickup. The game scales-well from 2 players to 5, and plays very differently depending on how many people are involved. Most importantly, is that it's been received fantastically well by almost everyone that's gotten their grubby hands on it. Heck, take as testament that Rio Grande was forced to run a second printing of the game less than a year after Caylus' initial release.
You might want to pounce-now and grab a copy before it disappears again. It's at FunagainGames.com for the cheap (10 bucks off MSRP).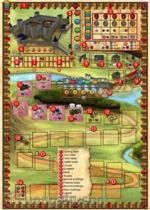 The Company Line: 1289. To strengthen the borders of the Kingdom of France, King Philip the Fair decided to have a new castle built. For the time being, Caylus is but a humble village, but soon, workers and craftsmen will be flocking by the cartload, attracted by the great prospects. Around the building site, a city is slowly rising up…

The players embody master builders. By building the King's castle and developing the city around it, they earn prestige points and gain the King's favor. When the castle is finished, the player who has earned the most prestige wins the game.
Enjoy!
Critical Gamers Staff at
Permalink