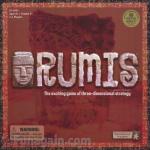 Rumis [Funagain, Amazon] isn't a new arrival to the party but the block laying game inspired by Incan building techniques - and similar to a multiplayer version of Tetris - is now available and shipping from Amazon.com.
What did the Incans always say, "Late is better than never?" Or was that Uncle Walter..?
Rumis is a very family friendly title (ages 8 and up) but the game remains a good puzzler for a group of players of any age. Players chose from one of four boards: pyramid, stairs, wall or tower, and take turns placing blocks of various shapes to build-out that structure. Once the construction is complete, or once a point is reached where players can't add any more shapes to the structure, then the game is scored. The winner is the one who has the most visible blocks of their color when looking straight down on the structure.
Cool stuff. But don't take our word for it - here's the official mumbo jumbo from the marketers: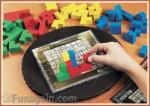 "There'll be no stone left unturned in this challenging strategy game. Inspired by Incan architecture, Rumis (meaning "stones") sharpens spatial awareness and critical thinking skills as players strategize to outwit their opponents while reconstructing historical Incan structures (pyramid, tower, stairs, and wall).

Each player receives eleven Rumis stones of one color. Players begin, one stone at a time, strategically placing their stones to prevent opponents from having the most visible colored stones. The player with the most stones visible from above wins!

Rumis comes with four beautifully designed game boards, a unique custom turntable, 44 wooden Rumis "stones", and instructions for variations on the game, including a habit-forming version of solitaire."
There aren't any reviews of Rumis at Amazon at this time but the game has received 3rd-party critical acclaim that lends it some credibility: Rumis took Mensa's Best Mind Game 2004, and the title was nominated by Games Magazine for Abstract Strategy Game of the Year 2005. Also Ted Alspache has written a great review in the Board Game Geek forums, and the game page at Funagain Games has three reviews in which users have given their highest praise to Rumis: each reviewer gave the game five stars out of five.
If those aren't good research links then we'll eat our hat.
Rumis is now available to order from Amazon.com, and is also available for purchase at Funagain Games.
Critical Gamers Staff at
Permalink