Dominion Prosperity Expansion Hits Shelves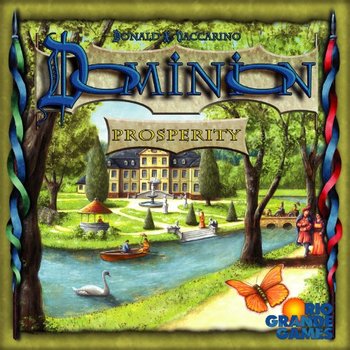 From what we've heard the Dominion Prosperity Expansion [Amazon, Funagain] is the best one yet. Conversely this is probably the final expansion for our collection of the Dominion card game ... unless the designers start adding laser beams or carnivorous unicorns. Why? Well there are just so many cards you can add to your collection before the entire collection becomes completely muddled, or when portions of your collection becomes untouched for months.
Heck, we don't even bother with the Seaside Expansion anymore. There are just too many different things in that expansion that create numerous moving parts that don't really jive with the other expansions.
But Prosperity is different. Instead of tacking on a crazy pirate theme, or an alchemy theme, Prosperity invigorates a subsystem that has always had a huge part of any game of Dominion: the economy. Prosperity focuses on the upper echelon of inhabitants in the medieval dominion. There's the normal rich philosophy of "more money is better" across the basic spectrum as expected. Like the new Platinum card that supersedes the top tier cash of Gold, and the new Colony victory point card that costs 11 bucks for 10 victory points. Crazy.
And you're not going to save up to buy these cards simply by stocking up on platinum. Nope, there are tons of event cards that snowball your economy. Like the garden or the pirate ship of old, there are cards like Trade Route that get more powerful as play goes on, specifically focused on boosting your own economy. But they're capped in interesting ways, either via increased price or by adding negative aspects like a Forced Trash action to certain cards.
Add to do that a slew of treasure cards that have special actions, special buy rules, or special values, and you get a high quality Dominion expansion that tickles your money bags.
For a full review of of the game checkout The Dice Tower's Dominion Prosperity Review. It includes a very brief review of the cards themselves, too.
Here are the official details:
---

Ah, money. There's nothing like the sound of coins clinking in your hands. You vastly prefer it to the sound of coins clinking in someone else's hands, or the sound of coins just sitting there in a pile that no-one can quite reach without getting up. Getting up, that's all behind you now. Life has been good to you. Just ten years ago, you were tilling your own fields in a simple straw hat. Today, your kingdom stretches from sea to sea, and your straw hat is the largest the world has ever known. You also have the world's smallest dog, and a life-size statue of yourself made out of baklava. Sure, money can't buy happiness, but it can buy envy, anger, and also this kind of blank feeling. You still have problems - troublesome neighbors that must be conquered. But this time, you'll conquer them in style.

This is the 4th addition to the game of Dominion. It adds 25 new Kingdom cards to Dominion, plus 2 new Basic cards that let players keep building up past Gold and Province. The central theme is wealth; there are treasures with abilities, cards that interact with treasures, and powerful expensive cards.

---
Read More in: Board Games | Card Games | Gaming News
Share this Article with others:

Related Articles:
Came straight to this page? Visit Critical Gamers for all the latest news.
Posted by Critical Gamers Staff at October 12, 2010 3:55 PM