BGN Reviews Space Hulk: Death Angel Card Game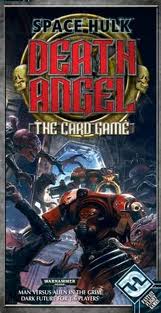 Space Hulk is a Warhammer 40k game with a far reaching dire-straits in space theme. It's all about you and your buddies staying alive in a ghost relic, working via squad coordination, focusing on overlapping lines of fire and moving into and out of offensive and defensive positions. Meanwhile genestealers are coming out of the wood work. Vile, wrathful aliens that pop their heads out of air ducts, lockers, door hatches and toilet bowls, each and brainlessly charging their way toward you to rip your squad apart.
And that's exactly whats going on in Space Hulk Death Angel [Amazon]. It's up to you and your friends to control a group of space marines on your table. Cards are placed to spawn new genestealers, to face your troops, and to lay down lines of fire or support your squaddies as they deal the hurt themselves. It's all about coordinating with each other to stay alive and deal some damage.
And Board Game News has a great review of the game. It combs through the game mechanics, citing some inconsistently difficult random elements that may ruin the fun of the game if drawn. It also does well to talk about the level of cooperation. Certain mechanics are in place to prevent one player from becoming the "Alpha Gamer", directing everyone to do this or that. We've noticed this to be true in previous cooperative board games like Pandemic, and we're glad to see someone's thinking of a way to solve these problems.
One of the best reviews we've read in a while. Nice job Mr Thrower.
Read More in: Board Games | Card Games | Gaming News
Share this Article with others:

Related Articles:
Came straight to this page? Visit Critical Gamers for all the latest news.
Posted by Critical Gamers Staff at September 20, 2010 4:55 PM