AEG Announces War of Honor the Next Legend of the Five Rings Release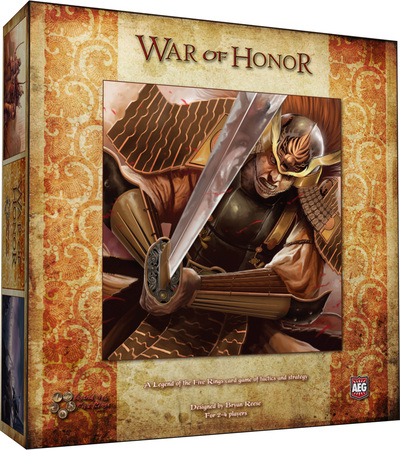 Alderac Entertainment Group (AEG) announced War of Honor, the latest in the Legend of the Five Rings (L5R) CCG line. War of Honor will include four pre-built decks for the Dragon, Lion, Phoenix, and Scorpion Clans and will be ready to go for 2-4 players right out of the box. The game will contain the four decks, a scoreboard, markers, movable tiles that bring that help bring a different game to each session, and tiles for the other five Great Clans making War of Honor compatible with any existing L5R cards. War of Honor will hit stores in June 2011.
Here is some additional information from AEG -

War of Honor is played using a modified version of the Legend of the Five Rings CCG rules. Legend of the Five Rings is now in its 15th year of publication, making it the second longest running CCG of all time. The game comes with four completely built decks, ready to play: Lion, Scorpion, Phoenix, and Dragon.
In Legend of the Five Rings, players build two separate decks to make up their "deck". One is the Dynasty Deck, which contains characters, gold holdings, events, and regions. These enter play via four provinces in front of the player, which hold one card each until it is purchased (or resolves, in the case of an event). The Fate Deck is made up of tactics, equipment, followers, and spells, and is drawn into a hand of five cards which the player can use at any appropriate time (including playing tactics or attaching equipment, spells, and followers to your characters for later use).
Throughout play, players will use their samurai, shugenja (priests akin to magic-users), courtiers, ninja, monks, and more to win via one of four victory conditions. These are:
• Military: Attack with your personalities and destroy the opponents' four provinces.
• Honor: Through various means (politics, winning battles, duels, art), gain up to 40 points of honor.
• Dishonor: Through various means, drag your opponent down to -20 honor and have him driven from the Empire like the honorless dog he is.
• Enlightenment: Put all five of the elemental rings into play at the same time. Much harder than it sounds, but if you can complete this legendary victory condition, you are declared an elemental master and win.
All the Clans in War of Honor can attempt these four, though each is more attuned to one than the others (Lion - Military, Phoenix - Honor, Scorpion - Dishonor, Dragon - Enlightenment). When you use extra cards from L5R, you can play any of the Clans in War of Honor, even the ones not included such as Crab, Crane, Mantis, etc. and you can change the decks so that the Lion deck focuses on honor, the Scorpion on enlightenment, or whatever you wish! Best of all, War of Honor will support open events, where ANY L5R card is usable, so even those you've had in your closet for years are back or those you find in the bargain bin at the local store!
Read More in: Card Games | Gaming News
Share this Article with others:

Related Articles:
Came straight to this page? Visit Critical Gamers for all the latest news.
Posted by Critical Gamers Staff at April 4, 2011 8:35 PM