Brain Rubik's Cube Will Make You Want a Frontal Lobotomy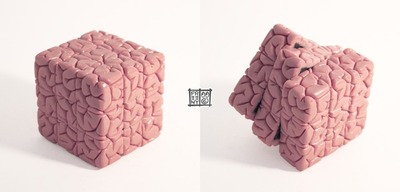 If you are like myself, then you haven't taken the time to master the Rubik's Cube pattern, making for a tough and tedious time of figuring out exactly which moves to make. This makes for a fun and rewarding challenge. If you have mastered the 3x3 cube and have moved on to more difficult pastures, well does Jason Freeny over at Moist Productions have the ultimate challenge for you, line up the brain folds. Jason has managed to take the intricacies of the human brain, add it to the puzzle of the Rubik's Cube, and create a work of art that will challenge even the hardest Rubik veteran. Check out his work over at Moist Production.
Read More in:
Share this Article with others:

Related Articles:
Came straight to this page? Visit Critical Gamers for all the latest news.
Posted by Critical Gamers Staff at February 22, 2011 8:36 PM