Warparty Demo on Youtube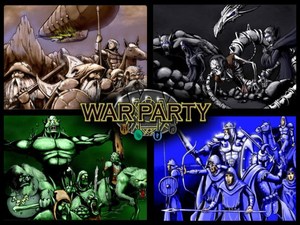 If you were a reader during the March timeline, you might have read a 4 part article about an fairly unknown title called Warparty that I had the pleasure to encounter during my trip to the 25th revision of the annual convention known as Total Con held in Mansfield, Massachusetts. For a recap or if you would like to check out the articles you can find them here:

As I go back and recount my descriptions of Warparty, I don't think I really explained the breadth of the game and more of recounted my experience with it. While the experience aspect is important, it is only a piece of the whole that the user needs to know in order to fully realize what is at stake with support for the title. That is where the Youtube demo video comes into play. Being able to understand the mechanics of the game will help you understand what the game is all about and the 4 part series will help you understand what it feels like to play it. I cannot stress how polished and balanced this game is and how passionate the creators are for the game. I urge you to go out and meet Larry at a convention, pick his brain, and try the game. Without you, the player, this title cannot fully come to realization as it should be. If you haven't pre-ordered it for a discount at Lock N' Load, go do so!
At Warparty
Read More in: Board Games | Gaming Culture | Gaming News
Share this Article with others:

Related Articles:
Came straight to this page? Visit Critical Gamers for all the latest news.
Posted by Critical Gamers Staff at September 8, 2011 8:47 PM