New Twilight Imperium Expansion Announced by Fantasy Flight Games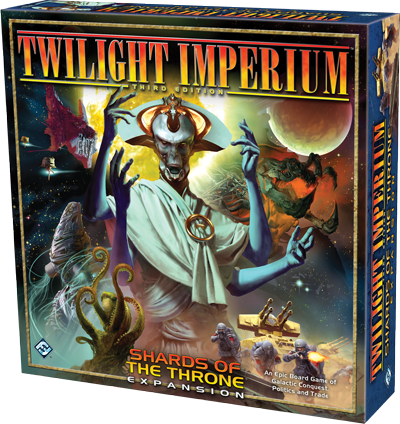 As if 2011 couldn't get any better, and if we didn't have enough on our want list here at Critical Gamers, Fantasy Flight Games announces an expansion to Twilight Imperium. In Shards of the Throne players will be able to control three new races, the Arborec, the Nekro Virus, and the Ghosts of Creuss. The expansion will also introduce a host of new options for your galactic conquering needs, from new alternate strategy cards, new units and technology, to the new races. With the new Political Intrigue mechanic, players have the option to try and control the Galactic Council or undermine the opponents. Fantasy Flight does not seem to be holding back any punches on Shards of the Throne and we cannot wait to get our hands on a copy later this spring. Check out their website for more details.
Read More in: Board Games | Gaming News
Share this Article with others:

Related Articles:
Came straight to this page? Visit Critical Gamers for all the latest news.
Posted by Critical Gamers Staff at March 29, 2011 11:04 PM