Conquer the West with Dakota from Nexus Games International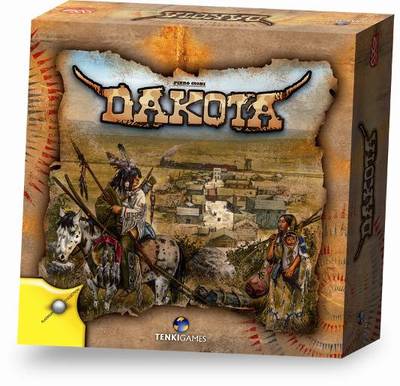 Conquer the Wild West in Nexus Games Internationals' latest release of Dakota. Created by author Piero Cioni, Dakota is meant for 3-5 players, aged 10 and up, and will take approximately 60-90 minutes to colonize the west. Dakota is now available in Europe and will be available mid to late February in the states.
Here is the official press release:
Take part in the epic history of the Wild West colonization, leading a group of settlers or a tribe of natives: NG International announces the release of Dakota, an "euro-style" board game for 3 to 5 players with linear mechanics inspired to the conquest of the West, created by Piero Cioni and published by NG International in Italian and English languages, with partners for the German (Heidelberger) and Japanese (Hobby Japan) editions. Dakota is now available in Europe and will arrive in America by the end of February.
In Dakota, each player belongs to one of the two factions, settler or native, and tries to achieve his objectives by making alliances from time to time with the others, independent of their parties, thanks to a game mechanic that allows to play in a balanced way even with a different number of settler and native players. The settlers try to exploit the territory in order to make it productive for industry and agriculture, while the natives must make all efforts to keep the territory virgin as long as possible, while at the same time using its resources for the prosperity of their own tribe.
Nexus Games International is most known for their Wings of War series which ran from 2004-2007 and their award winning War of the Ring game, based off the J.R.R. Tolkien novel, where you could play as the Free Peoples or the Shadow Armies.
Read More in: Board Games | Gaming News
Share this Article with others:

Related Articles:
Came straight to this page? Visit Critical Gamers for all the latest news.
Posted by Critical Gamers Staff at February 3, 2011 7:23 AM