Carcassonne Coming to Nintendo DS in 2009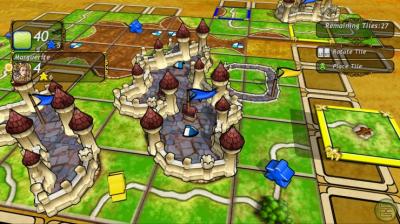 Word is circulating the Video Gaming Blogs (#1 | #2) that the classic tile laying Eurogame Carcasonne will soon be making it's way onto the Nintendo DS.
Like the Xbox Live version pictured above, Carcassonne DS will feature the original game along with the Rivers expansion. Featuers will also include 3 different 'worlds' - you got us what that means - as well as multiplayer and a story mode. This should push the feature set beyond the limited bounds of the the Xbox Live model, which is great. We hope the graphics are just as bright.
Carcassonne for the Ninendo DS should ship later this year -- we're thinking near The Holidays.
Read More in: Board Games | Gaming News | Variants
Share this Article with others:

Related Articles:
Came straight to this page? Visit Critical Gamers for all the latest news.
Posted by Critical Gamers Staff at July 16, 2009 6:31 PM