Cadwallon: City of Thieves Hits Shelves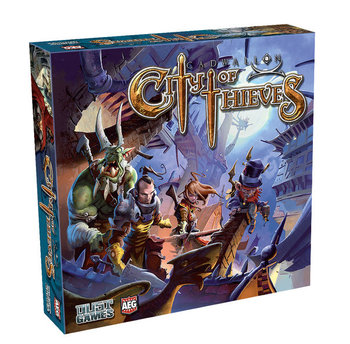 FFG's latest old school cloak and dagger fest
Cadwallon: City of Thieves
[
Amazon
,
Funagain
] has hit shelves. Problem is, it's not quite enough cloak and dagger and more pacman meets back alley brawl.
When we first started reading about City of Thieves we had thought we had just been introduced into an awesome backstabbing game of dark subterfuge. Pull off heists in a series of dynamic maps and scenarios? Awesome. The idea of individual characters slinking through pre modern cities, breaking into houses to steal itmes based on various personal-level quests sounds so freaking tastey that we're drooling over the idea even now. Imagine getting an order from a crime boss where you're tasked to steal a series of goods, and you're in the dark about whether you're the only player striving to steal these goods or if you're secretly competing against another player on a subset overlapping missions. Being in the dark and competing against one another by either racing to steal the specific items first, or waylaying the opponent after he's done all the heavy lifting for you... that - friends - sounds like an awesome game.
Unfortunately City of Thieves dilutes the theme down to the very essence of 'stealing crap and getting out' and there aren't enough hood ornaments tacked onto the game to make things interesting. There's very little skill in entering houses and stealing things. A mini game or something adventurous here would have made the game sail, but alas the implementation is as flat as a saltine pizza. The luxurious treasures are just just randomly assigned for you to steal, and there are numerous versions of the same thing littered around the map of Cadwallon. There's nothing really special about any one place or any one treasure in the game. It's basically a smash and grab and fisticuffs board game.
So we're sad that we're not all ga-ga over this game. Some might like it, perhaps a younger audience in their early teens who don't thirst after the complexity that we do. In fact we would highly rate the game in that regard. It has amazing components with a slick art style and streamlined rules. Just not enough going on to make any particular basktab more worthwhile.
This is odd considering that FFG is usually near the Complicated end of the complexity scale. Perhaps City of Thieves is an attempt to broaden the fan base across all age groups. Afterall, FFG's lineup this year is absolutely huge.
For more information check out City of Thieves Components Breakdown in HD, and our original Cadwallon: City of Thieves Unveiled at Gencon. Here are the game's official details:
---

Cadwallon: City of Thieves is a fast-paced game of cunning thievery and ruthless skullduggery in a fantasy city steeped in magic and intrigue. Two to four players each control their own gang of four thieves, competing to amass the greatest haul of loot from the many carefully locked chests scattered about the board. This is no friendly competition, however, and there is little loyalty among thieves in Cadwallon! The most successful players are as likely to claim their loot from the other gangs as they are to do the time-consuming legwork themselves. And always there is the Guild, directing the gangs from the shadows, and offering rich rewards to those who follow its will. But there is little time to waste; even the slow-witted militiamen will eventually raise the alarm... and woe be upon any thief who fails to creep away before the lawmen seal the district!

---
Read More in: Board Games | Gaming News
Share this Article with others:

Related Articles:
Came straight to this page? Visit Critical Gamers for all the latest news.
Posted by Critical Gamers Staff at October 26, 2010 5:00 PM