Bananagrams - A Quick, Exciting Take on an Old Classic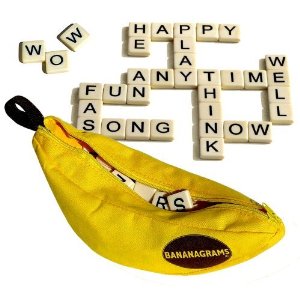 Most board gamers in this world have heard of Scrabble, and most of those have played. And if you are like us at Critical Gamers, then there is nothing more frustrating than having an amazing 6-letter word and triple word score space lined up only to get it stolen by Uncle John and his 3-letter, 12 point word which took 20 minutes to play! Well, if you love the creativity of producing your own words and anagrams but don't want to worry about bonus point spaces or waiting a long time for your turn, then check out Bananagrams.
Bananagrams has all the fun of Scrabble but less of Uncle John's bad plays and a game can be as quick as 5 minutes. It comes in a fun banana pouch that is great for travel. No pencil, paper, or board is required to play; all you need is a table. It is recommended for 2 or more players ages 7 and up. It features 144 letter tiles that are face down in the middle, from which players choose their tiles. The first person to use all their tiles wins, pretty simple.
At Bananagrams
Read More in: Board Games
Share this Article with others:

Related Articles:
Came straight to this page? Visit Critical Gamers for all the latest news.
Posted by Critical Gamers Staff at February 6, 2011 10:48 PM