An Impending Watery Death, Can you Survive?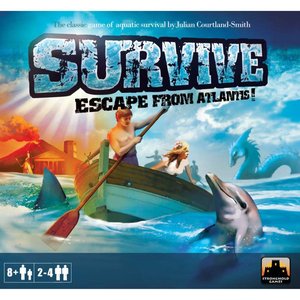 In honor of the impending apocalyptic doom that is about to hit the East Coast of North America in the form of Hurricane Irene (whoa is us!), I bring you Survive: Escape from Atlantis. Survive is an 2 to 4 player game that takes 45 to 60 minutes to play where players must escape from an island that is breaking apart and sinking into the ocean. Each player must work their way over to an adjacent island either by swimming or taking a boat; if only it were that easy. While in the water, players must avoid sea serpents, whales, sharks, and if you have the latest expansion, giant squid.
At Survive: Escape from Atlantis
Read More in: Board Games
Share this Article with others:

Related Articles:
Came straight to this page? Visit Critical Gamers for all the latest news.
Posted by Critical Gamers Staff at August 26, 2011 10:22 PM