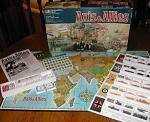 We've fought each other over every inch of the the world of Axis and Allies [Amazon, Funagain] umpteen times over, and our stress levels are at an all time high. We've played so many rounds of W.W.II on GamesByEmail.com that our office has vendettas on top of vendettas, players have plans within in plans, and the parking lot is stained with the blood of numerous cut break lines.
One thing is for sure across all of our gaming sessions - the first turn means just about everything. If it goes wrong for Germany, or Russia, or UK, or Japan, then the war is all but over already. We had a problem: we wanted to make sure that we always do the right thing from the get go, and we kept second guessing ourselves. Through our numerous trials and tribulations of failed world conquest we've found solace in some Axis and Allies strategy guides that we've dug up online. We'd like to take some time on this lazy Friday afternoon to share some of these resources so that you, too, can beat the snot out of your friends. Aren't we so generous?
We should note that we play with optional the rule "Russia can't attack on the first turn", which is supported by W.W.II on GamesByEmail.com. This rule is so very important because the game is seriously imbalanced otherwise. Also, W.W. II uses the original Axis and Allies rules and board - the Axis and Allies Revised Edition is an entirely different animal so you should probably ingore those guides altogether if you can.
Okay, enough clarification and butt covering. Here are the guides we found most interesting:

Dismissed!
Critical Gamers Staff at
Permalink