VPG Attempts to Knock One Out of the Park with High & Tight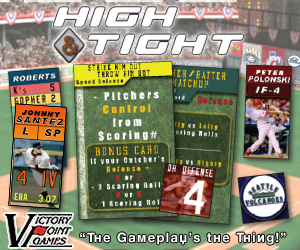 Following the success of TC Tennis, Victory Point Games (VPG) tries its hand in the sports world again with a baseball title, High & Tight. I think this is the right way to go considering baseball's following tends to be larger than tennis in most countries. Given the gameplay of every other game VPG has released that I have played thus far, I have no doubt that High & Tight will be nothing short of a grand slam.
From the Victory Point Games press release -
It is said that every baseball team will win one-third of its games and lose one-third of its games. Now, step onto the field and find out what it takes to win "that other one-third"!
A favorite pastime has finally found its way into the ballpark of VPG's Sports Series. High & Tight, from designer Hermann Luttmann, is a simple, two-player game of baseball strategy for two players, utilizing teams to the fullest and going head to head in the field, anywhere from spring training to the intensity of the World Series.
Focus on how to best form your team line-up, and battle inning by inning in an effort to emerge victorious! Think you have what it takes to efficiently manage your players, maximizing their specific talents as well as utilize Strategy cards to subtly increase the odds of scoring and preventing runs? Manage your team's assets, take advantage of the opportunities, and knock it out of the ballpark on the "field of dreams." Step up to the plate with High & Tight ... And let's play ball!
For more details and to order High & Tight - Click Here
Read More in: Board Games
Share this Article with others:

Related Articles:
Came straight to this page? Visit Critical Gamers for all the latest news.
Posted by Critical Gamers Staff at October 21, 2011 8:59 PM