FFG Announces The Hobbit Board Game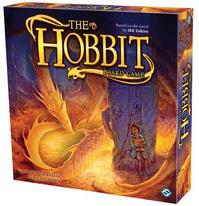 Fantasy Flight Games has placed another Middle Earth board game installment in the hands of Reiner Knizia, famed designer who also produced the original Lord of the Rings cooperative board game way back in 2000.
The board and components have a similar vibe as The Lord of the Rings, actually -- a game which has scored high marks in many circles. To us, though the game is a bit boring and has some really straightforward and mundane gameplay. Our tastes rest are a few notches higher on the complexity scale, we fear. Thankfully it seems that The Hobbit might layer on some more interested dynamics to spice up the gameplay. Players ditch the cooperative elements and will take on the roles of the various dwarfs who escort Bilbo on his trip to the Lonely Mountain. Players will manage skills in multiple disciplines, sort of training up on multiple fronts to defeat various types of adventures that transpire during the journey.
Details are still sparse, but our interest is somewhat piqued. Here's an interesting bit lifted from the game's official announcement.
---

"Designed by Reiner Knizia, The Hobbit is a game of strategic bidding and chance. Taking on the roles of the stoic dwarves, players need to guide Bilbo Baggins from the Shire to the Lonely Mountain and end the game with the most treasure. During their journey they will fight goblins, battle wargs, escape the Mirkwood elves, and eventually reach Laketown. Players must plan their journey wisely, bidding for their turn sequence to move Bilbo Baggins further along the game path.

In order to face the challenges that await them, players can increase their stats by using their numbered Dwarf Cards to bid for upgrades. Player stats include Cunning, Strength, and Initiative, and each of these can be raised whenever the active player moves Bilbo onto an appropriate space along the path. But be wary, there are also spaces on the path that will reduce your stats. Bid wisely!

"

- Fantasy Flight Games

---
We'll keep you posted of any interesting new information as it's released.
Read More in: Board Games | Gaming News
Share this Article with others:

Related Articles:
Came straight to this page? Visit Critical Gamers for all the latest news.
Posted by Critical Gamers Staff at September 23, 2010 4:28 PM