Battlestar Galactica Exodus Expansion Announced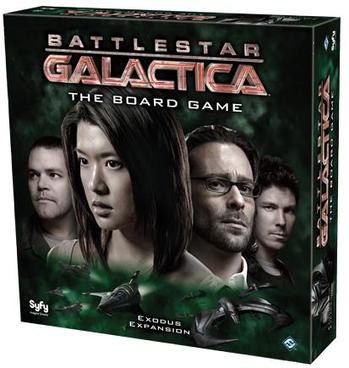 This one took us very much unawares. We had though that the Battlestar Galactica board game line of expansions was dead in the water. First of all, the show's been off the air for quite some time. Secondly the Pegasus Expansion was a bit... too much. It felt as though a fragile layer of complexity was quickly slathered onto every facet of already complicated game, and at the end of the day it didn't sit very well in our stomachs. Kind of like a chili dog milk shake. Two great things that look sweet on a shelf, but blending them together with a bunch of rotating blades and you're in for one nasty looking 3000 calorie meal.
So we're a bit wary of another BS:G expansion. It'll have to tuned to sing right out of the bat or we'll be tossing it aside for some other interesting cooperative board game with a slick dynamic. After all, they're nearly a dime a dozen these days.
So what's in Exodus aside for new cards for every deck? Well it looks like the space combat system has been given an overhaul. The Cylon fleet will no longer be completely dormant while the Galactica is sailing in clear skies. Instead they'll be cranking up the tension dial by amassing ships on a separate board, forming up to pounce all at once.
They'll have to do something to balance this new sudden armada of ships that'll jump (instead of the nigh trickle before) and that's where the new officer title comes into play. Along with the President and Admiral there will be a Combat Air Group (CAG) Officer to call the shots at the tactical level. We haven't been briefed on the full details, but it sounds like the CAG officer will have more control over the the unmanned ships in the Viper fleet once the crap hits the fan. Expect the space combat mechanics to be more on-stage in this new refined BS:G board game system.
Also of note are new hidden aggendas for even the loyal humans, who were pretty vanilla in the past. We don't have any of the specifics on what sort of hidden agendas everyone will have, but we do know that there's a penalty for these loyal humans when they're force to reveal their loyalty card to another player. That means humans and cylons alike will be shying away from the dreaded cylon detectors, which will only make it seem like everyone is a cylon! The paranoia will be mindbogglingly twisted. Best to stay sober for this one.
We'll keep you posted as more details emerge. Until then, checkout the official Battlestar Galactica: Exodus expansion announcement. Also, here are the official details:
---

"Humanity has escaped from the Cylons and renewed its quest for the the legendary planet Earth... but their former captors will never relent. For the human race to survive, the mighty Battlestar Galactica must protect the handful of ships carrying humanity on their journey through space.

And yet, even if the men and women who serve on Galactica can elude the Cylons, can they outrun their own flaws? When put to the test, will they be able to overcome their own painful secrets and stand together against their enemies? What if one of these individuals were to discover that his memories of a human life were a lie, and that he was instead one of the mysterious Final Five Cylon models?

The Exodus Expansion for Battlestar Galactica: The Board Game brings players to the next chapter of the popular Syfy series. In addition to more characters, Destination, Crisis, Super Crisis, Loyalty, Quorum, and Skill Cards, this expansion offers three exciting new options for play that may be used in any combination. Create the Battlestar Galactica experience you want!

"

---
Read More in: Board Games | Gaming News
Share this Article with others:

Related Articles:
Came straight to this page? Visit Critical Gamers for all the latest news.
Posted by Critical Gamers Staff at November 4, 2010 5:20 PM