Talisman: The Highland Expansion Released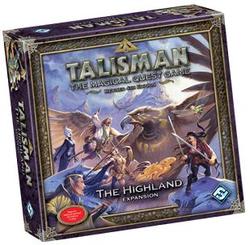 FFG has released another expansion to it's Talisman 4th Revised Edition dungeon romp adventure game. Talisman: The Highland [Amazon, Funagain] hits the rugged windswept mountaintops and can be enjoyed with a nice peaty scotch.
So what should you expect? "The Highland" adds on to the game board, introduces new characters, adds new end-game conditions, 100 new cards, new figures... in other words gobs of new content in highfalutin FFG style. Coupled it with the previous The Dungeon Expansion and you have yourself a nice rainy day gaming weekend.
Here's the official word:
---

Clouds enshroud the mountain's peak... Exhausted from the long ascent, you barely keep your grip as the stones beneath you give way and tumble perilously down the slope. But you still keep climbing... ...for the Highland beckons you!

Talisman: The Highland adds a new Region to the game for heroes to explore. A custom-fitted map board and over 100 new cards bring this mountainous realm vividly to life, while six brand-new characters, each represented with a superbly detailed plastic miniature, offer fantastic new playing experiences. Climb as high as you dare, and lay claim to the unimaginable wealth that awaits atop the tallest peak in the world of Talisman!

---
Also checkout this great Talisman: The Highland First Impressions from the BGG forums. Finally, FFG has also released a long line of preview articles. If you're looking to no more about the expansion before plopping down your cash, then look no further:
Critical Gamers Staff
Permalink
|
Comments (0)
|
Email This
|