WoW TCG: UDE Points Just Got Useful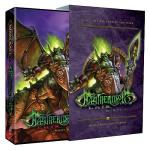 Looking for a good place to spend your UDE Points? We have to admit the current lineup of 'fun' UDE point options are pretty limited. Aside from a few cool playmats there really hasn't been anything to entice us to spend our points. Until now.
Today at the Upper Deck Store you can redeem 4000 UDE Points for one Magtheridon's Lair treasure pack. That's 10 cards from 20 of the some the sweetest rare equipment around, mostly filling in those secondary slots like rings, off hands, and backs that many set releases barely dabble in. Not to mention some pretty sweet wands and weapons to boot (Crystalheart Pulse-Staff or Glave of the Pit anyone?)
We know that it's been a while since Magtheridon's release, so if you need a refresher on what's in his.. err. it's set of loot, here are the cards from head to toe from the WoW TCG DB: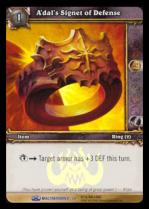 Magtherion's Lair Treasure
Our points have been burning a hole in our pocket for far too long. Release the hounds!
Read More in: Gaming News | World of Warcraft TCG
Share this Article with others:
Related Articles:
Came straight to this page? Visit Critical Gamers for all the latest news.
Posted by Critical Gamers Staff at June 18, 2008 3:19 PM