WoW TCG Magtheridon's Lair Deck Is Out!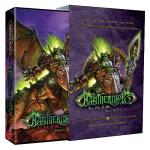 Alright WoW TCG players, it's time to determine how bad-ass your heroes really are -- Upper Deck has finally shipped the third in a line of Cooperative Raid Decks for the World of Warcraft Trading Card Game. Magtheridon's Lair [Amazon, Funagian] brings one of the first raid encounters of the Outland to the the TCG, where players team up to take down the Pit Lord Magtheridon in his very own prison.
We're pretty psyched about this one.
Now killing a 'man' sleeping in his own jail cell doesn't sound very noble, even if the man is a 3 story half dragon pit fiend. But in the scheme of things it's for the greater good; in the WoW mythos Magtheridon's Blood is being used to create an army of Fel Orcs to serve Illidan, the grandmaster jerkhole demon who's become the capital evil burden of Outland. The death of Magtheridon means Illidan won't have his army to act as a shield, and thus be severely weakened and open to attack. If we were to take wild stabs in the dark - then tackling Illidan in the Black Temple will be the next Raid Deck release in the Outland series.
The floating undead citadel of Naxxramas is rumored to be the next Azeroth-based WoW TCG Raid Deck release (following the line of Onyxia and Molten Core).
But enough back story, we gotta start playing. Like the other Raid Decks Magtheridon comes with his own set of Loot Cards to act as a gold foiled reward for defeating the raid. Now Upper Deck hasn't yet finished previewing the cards - they're usually pretty lethargic about prerelease news and details- but you can check-out the complete list of rewards thus far at WoWTCGDB.com, which has always been on top of the latest card details as they're released.
We're quite giddy over this one. Here are the brief Official Raid Deck details:
Play as the powerful pit lord Magtheridon and his minions, and defend your citadel from the foolhardy heroes who crave your treasure! Or, form a raiding party with your friends and try to defeat the deckmaster's ultra-powerful Magtheridon deck! Each Raid Deck expansion set requires players to build their raiding parties using cards from the World of Warcraft TCG.
We'll have our thoughts on the Magtheridon's Lair raid deck as soon as we've put it through its paces. For those of you who dive-in before that: Good Luck!. This is one helluva raid in World of Warcraft, and you're going to have been pretty darn smart in your strategies if you're going to tackle this beasties before he goes bezerk.
For more information on the World of Warcraft TCG Raid Decks checkout our previous coverage of Onyxia's Lair and the Molten Core.
Read More in: Collectable Card Games | Gaming Culture | World of Warcraft TCG
Share this Article with others:
Related Articles:
Came straight to this page? Visit Critical Gamers for all the latest news.
Posted by Critical Gamers Staff at January 10, 2008 5:00 PM