The WoW TCG Black Temple Raid Deck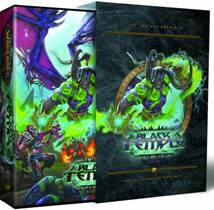 Its time to put your PvP WoW TCG decks down and start building something that covers your friends back; another Cooperative World of Warcraft Trading Card Game Raid Deck has hit the shelves, and rush decks will get slaughtered.
the Black Temple Raid Deck [Amazon, Funagain] is the 4th installment in a long line of very unique Cooperative TCG game experiences, which has leaned heavily on World of Warcraft MMORPG cannon from the Onyxia, Molten Core, and Magtheridon's Lair raids dungeons.
Things aren't so ho-hum traditional here folks. The Raid Deck is stacked with Traitor Hero Only ally cards for each of the WoW classes. That means that once the raid deck has been defeated, and once you've unwrapped the loot cards, had a scotch, and you just don't know what to do with your cards but have them shine down on you from the top shelf of your collection - you can give them new life. Ayep, you can take the powerful traitor-only trash mobs from this raid deck and slide them them into your Traitor hero decks from the Servants of the Betrayer and The Hunt for Illidan. And here we thought the whole Traitor thing was short lived.
Speaking of backstabbing SOBs, this time around players take on the traitor himself, Illidan, in the far reaches of Outland in his penthouse apartment of the Black Temple. This raid traditionally caps of the end-game content of The Burning Crusade expansion to World of Warcraft, and ends the Outland cycle of the WoW TCG. From here the Traitors are left behind when things head into new territory with the Drums of War PvP battledeck expansion in November.
If you would like to read more on the deck before you put your paws on it, then continue on for the Official Deck Description. Additionally, you can check out a series of Upper Deck articles for a more in-depth preview of the raid's trash mobs and loot card rewards Enjoy!
Black Temple Raid Deck Preview Articles


Black Temple Raid Deck Official Details

---

"The final barrier has been breached as the Horde and Alliance pour through the cracks in the walls of The Black Temple. Illidan's most trusted servants prepare to obliterate all those who would dare venture into the depths of his stronghold!

The Black Temple opens up an entirely new dimension of the World of Warcraft TCG as, for the first time, certain Raid Deck cards will be tournament legal outside of the Raid Deck format, while cards introduced in the Servants of the Betrayer expansion can be used to customize the Black Temple Raid Deck!"

---
Read More in: Gaming News | World of Warcraft TCG
Share this Article with others:
Related Articles:
Came straight to this page? Visit Critical Gamers for all the latest news.
Posted by Critical Gamers Staff at September 24, 2008 12:52 PM