WoW Minis Preview Hits Stores This Weekend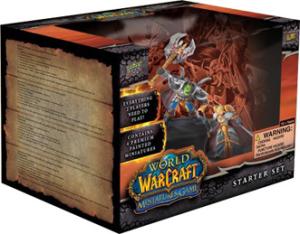 The gaming news site GamingReport.com has seemingly posted verbatim what appears to be a press release from Upper Deck stating that demo kits of World of Warcraft Miniatures will hit stores this weekend.
So if you're looking to get an hands on experience with the game before it ships in a few weeks, then you're chance is now!
Here's the meat and potatoes of the press release on GamingReport.com:
---

" Make sure to add the new World of Warcraft Miniatures Game to your weekend plans! Starting this week, hobby stores around the country are offering free demonstrations of this brand-new game. Stop by your local hobby store and get a taste of all the amazing game-play action and high-quality figures that the World of Warcraft Miniatures Game has to offer. Visit WoWMinis.com to find a hobby store near you!

Launching on Tuesday, November 11, World of Warcraft Miniatures Game will be available in four-figure Starter Sets and three-figure randomized booster packs, all featuring amazingly detailed figures and innovative, engaging game play. Visit WoWMinis.com for more information about this great new game!

Upper Deck has provided free World of Warcraft Miniatures Game demo kits to more than 1,500 hobby stores across the country. The kit includes a Starter Set, offering everything two people need to play right out of the box, and a four-page quick start guide, making this kit a great way to experience the most anticipated Minis game of the year.

Each of the 70 figures available in the World of Warcraft Miniatures Game reflects the imagery and style of the popular World of Warcraft online game characters, including such fan-favorite characters as Leeroy Jenkins, Warchief Thrall and Varimathras. Each miniature can be mounted on a uniquely engineered, removable base, allowing it to serve as both a game piece and a standalone collectible."

---
Have a good weekend!

Read More in: Collectable Card Games | World of Warcraft TCG
Share this Article with others:
Related Articles:
Came straight to this page? Visit Critical Gamers for all the latest news.
Posted by Critical Gamers Staff at October 24, 2008 11:13 AM