World of Warcraft TCG Crafting Guide 2007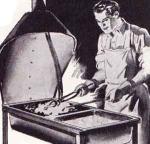 We've received quite a few questions about the new World of Warcraft TCG Player Crafted Items – specifically "How the heck do I get my hands on them? – and so we decided to make this one stop shop for all your TCG crafting needs. We break down the cards you need to collect, the items that are available to craft, and the mailing instructions on how to get them in your hands all in this easy to read reference pamphlet! So create a bookmark and enjoy.
Overview
The theme for the crafting program stems from the crafting system of the original World of Warcraft MMORPG: players in the game collect goods off of fallen monsters, or skin freashly killed animals, or pick herbs – all of which can be combined in specific formulas to produce player items. These items include Armor, Weapons, Potions, etc.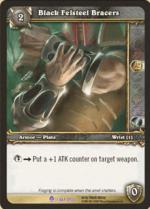 In the WoW TCG, just replace "animals" and "monsters" with Booster Packs, and there you go! Players collect trade goods cards contained within Booster Packs, and then combine them (mail them in) and UDE will award the player an item card. This first series is limited to special WoW TCG Armor cards and two Weapons which are all quite powerful, and we hope in future iterations – which there will be – the crafting will expand further, potentially releasing new potions and even stronger variety of weapon types.
The cards in the crafting system are all Purple - which means that they're super rare, epic even. . It also implies they're good, and thankfully they really really are a cut above the rest. Read on for more details.

Trade Goods
Starting with the Fires of Outland Expansion all World of Warcraft Trading Card Booster Packs contain a card with a Trade Good on it. These cards also serve as UDE Points cards – so those UDE Point Promotions still continue to exist, and the UDE point code on the card is only for the UDE Promotions and has nothing to do with these crafted items. You do not need to go to a website to enter the UDE Point Code in order to unlock the Trade Good. The Card is the Trade Good, and you will be able to mail a set of the cards in to get your crafted item returned to you in the mail (or alternatively you can trade the cards in at any official World of Warcraft TCG event).
There are 12 Resource Types in all, and some of them seem to be quite rare, so start hording them! The list of items and their card requirements is listed in the next section.

The Items
This is what you've been waiting for. Here are all of the items currently available in Fall of 2007, and the resources that you're required to give UDE in order to get the item. More will come, so keep collecting those Trade Goods!
Armor
Weapons
Felsteel Reaper
| Paladin, Warrior | - 2 Handed Axe
Reqiures: 4 Primal Water, 4 Primal Fire, 4 Primal Earth, 4 Primal Mana, 4 Primal Air, 5 Felsteel Bar, 1 Primal Nether
Eternium Runed Blade
| Mage, Priest, Shaman, Warlock |
3 Primal Water, 3 Primal Fire, 3 Primal Earth, 3 Primal Mana, 3 Primal Air, 3 Khorium Bar, 5 Eternium Bar, 2 Hardened Adamantite Bar, and 1 Primal Nether
How To Redeem Your Items
It's actually as easy as going to an Official World of Warcraft TCG event, where you can hand your Trade Goods to a Upper Deck Entertainment representative and they'll hand you your Crafted Item in return. If you don't attend the official WoW TCG events, then you'll just need to print This Form Here [PDF] and then address and stamp two envelopes.
Here are the official details taken from the "Crafting Redemption Program Details" feature article. The mail order instructions come straight from Upper Deck and are intended for North America, Latin America and residents of Guam. If live outside this region States then you can consult the official Crafting Redemption Program Details for country and region specific mailing locations.
"Each mail-in redemption is limited to two cards per order. You must include the following:

Print out the order form, and write the quantity in the appropriate box next to the recipes you are redeeming.
Sort out the Trade Goods, and separate them with a rubber band for each recipe you are redeeming.
A self-addressed, stamped envelope (standard legal sized 9 1/4" x 4" or 24cm x 10cm). Make sure to include enough postage to mail the promo cards to your region. This will need to include enough for 1.5 oz (45g) to be sent from the office you are redeeming your cards through.
Either a phone number or e-mail address to contact you if there are any questions about your request.

Redemption requests will be handled in the order they are received and may take between 4 to 6 weeks to process. We will begin sending out crafted item redemption cards no earlier than November 30th 2007. If you are concerned that we may not receive your redemption request we recommend using Certified mail or a shipping service that can provide tracking.

Send your order to the office designated below:


North America, Latin America, Asia & Guam
Upper Deck Entertainment
Attn: WoW TCG Crafting Redemption
5909 Sea Otter Pl.
Carlsbad, CA 92010 USA

"
And that's it! Once you get enough cards - just slide them in the mail box. Waiting is the hardest part.
We'll have more Crafting News and keep you up to date on the latest Crafting Redemption Rewards as they're released in the new sets. Until then happy collecting!

Read More in: Collectable Card Games | Gaming News | World of Warcraft TCG
Share this Article with others:
Related Articles:
Came straight to this page? Visit Critical Gamers for all the latest news.
Posted by Critical Gamers Staff at December 6, 2007 4:40 PM