WoW TCG: Stephen Colbert Puts the Horde on Notice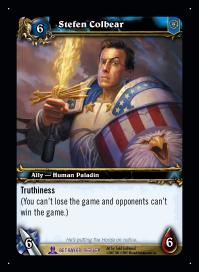 A few weeks ago there were stories about a failed pitch that Upper Deck made to Stephen Colbert, who they wanted to appear in the next set WoW TCG Set Release Servants of the Betrayer. The image went around the web like wildfire, but now, after some copyright scares Upper Deck has let the artist post images of the entire card.
And it's hilarious (click image to make it go big now!) The official story can be found on multichannelnews.com.
We generally don't like when celebrities intrude on well set themes and settings - like when Perry Mason aka Raymond Burr appeared on the Flintstones - but we'd be behind Colbert and Upper Deck 100% in this case. It's a shame Colbert's agent poo-pooed the idea, 'cause Upper Deck would have had one of the most perfectly collectible mix of pop culture and gaming for 2008 on their hands.
Read More in: Gaming Culture | Gaming News | World of Warcraft TCG
Share this Article with others:
Related Articles:
Came straight to this page? Visit Critical Gamers for all the latest news.
Posted by Critical Gamers Staff at March 6, 2008 1:26 PM