Critical Gamers 2007 Holiday Gift Guide - World of Warcraft TCG Gift Ideas
For more great gift ideas across all genres of games please see our
Holiday Gift Guide Index
We cap off our series of Holiday Gift ideas for 2007 with probably our most focused list: one tailored specifically for the World of Warcraft Trading Card Player.
Since you're reading this chances are you know someone who plays World of Warcraft on the computer, or you know someone into collectible card games. Either way you probably know a candidate for a World of Warcraft TCG fanatic, or someone who is one already. In this list we explore the latest and greatest WoW TCG products coming out just in time for the Holiday gift giving season, and lucky for you almost all of them fit into a stocking!
WoW TCG Damage Dice

[Amazon, Funagain]
We have to admit, our review clamped down hard on this inexpensive dice set and carrying case in the shape of the classic World of Warcraft treasure chest. At first we found the dice somewhat cheesy, and they had a tenancy to rattle around quite loudly.
But when our artsy friend returned to us after his long ramp up at a new job, he quickly scowled at our overly critical selves, and then he turned all dizzy eyed when he saw just how exacting and cool the details of this treasure chest truly are. And hey, if you don't like the dice then put your own set in there. No Big Deal.
WoW TCG players who likey the World of Warcraft art will probably love this slick little dice set.

Feast of Winter Veil Holiday Box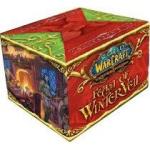 [Amazon, Funagain]
The box of 10 Holiday Themed rare cards seems like a no brainer for Holiday Gift guide. The cards in this set are quite powerful, which means that even if the person already owns this set they could still use the 10 extra cards in other decks.
Plus Winter Veil has a booster pack of 15 cards each from all three prior sets released for the World of Warcraft TCG: Heroes of Azeroth, Through the Dark Portal, and Fires of Outland. And there's a card case acts as a deck carrying box to boot!
It's a win, win win, and for the cheap. For more information checkout our Feast of Winter Veil game page

Dark Portal Playmat

[Amazon]
We know: the sounds of "playmat" brings back memories of junior flinging peas from his high chair - but look at the art of this thing (click the picture on the right).
Playmats are great for laying down your claim of the barren table in the early game when nobody has any cards out, and once you've played win one the table just seems desolate and void without one.
There have been other playmats released, including on our discontinued favorite Onyxia's Lair playmat. This latest playamt rivals even that one, with some very slick art of one of the most iconic symbols in World or Warcraft fiction: The Dark Portal.
We just love the colors of this thing.

March of the Legion

Starter Deck
[Amazon, Funagain]
Booster Box
[Amazon, Funagain]
The latest and greatest World of Warcraft set The March of the Legion is so current - it's due out next week and isn't even out on shelves yet. Yes, we know that didn't make any sense... but we're gamers not physicists.
We haven't gotten our hands on the set yet but from we've previewed the cards and we're certain Upper Deck hasn't fallen off in the quality of their latest release. Players will find plenty to game here, including a new ally faction allegiance mechanic which could make deck construction even more enjoyable than it already was.
You have two choices in how you want to pick up this set. Our favorite from a collector's / deck builder's perspective is to buy a box of boosters. This is gobs of cards and the best way for any gamer to enjoy a set release.
Second up is cheaper: buying a starter deck. There are 8 starter decks in all centered around a specific hero, but you don't know which Hero you'll get until you open up the box in your very own hands. Either way the cards work well together to inact a particular gaming theme of the deck, including the Hero type and the faction (s)he belongs to. the down side: there aren't many rare "that's cool" cards in these sets. The plus side: the Starter Deck ships with the game's instruction booklet and so is designed for the WoW TCG Beginner in mind, so this is the perfect launch platform for new players.

Fin
Well there you have it: our complete World of Warcraft Trading Card Game Holiday Gift Guide. We hope you've found something for that special gamer in your life. If you have any questions about any of the products that we've listed, or have any other suggestions, then please feel free to drop us a line in the comments section of this post (below).
Otherwise, Happy Holidays everybody!
Read More in: Collectable Card Games | World of Warcraft TCG
Share this Article with others:
Related Articles:
Came straight to this page? Visit Critical Gamers for all the latest news.
Posted by Critical Gamers Staff at November 21, 2007 8:00 AM