War of the Ring Expansion News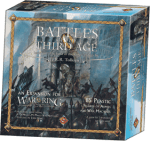 A pair of the designers at Fantasy Flight Games have posted an article previewing the new War of the Ring expansion 'Battles of the Third Age'. The expansion adds new characters, new cards, and new siege units to the already ginormous War of the Ring board game. Battles of the Third Age is also a game itself (!), with a new board and rules to setup and play a pair of famous fictitious battles from the Lord of the Rings trilogy - the battle for Minas Tirith and Helm's Deep.
War of the Ring - Battles of the Third Age introduces new armies and figures, including the Ents, Dunlendings, Siege Towers, Catapults, Orc Archers, Southron Cavalry, and more!

You will have a chance to add these new figures to make your War of the Ring battles even more fun ... and to re-fight the battles of Helm's Deep and Minas Tirith on a new gameboard, with new rules which move the game from the grand-strategy to the tactical scale and add a whole new dimension to War of the Ring!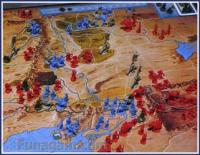 You can read more about the game in the featured preview article here. There's also a strategy guide detailing the Free Peoples Cards. If you have any uncertainty about your strategy, or confusion over rules, then this ones a must read.
We've been drooling over the War of the Ring quite a bit, and so we have our eyes strongly fixed on this expansion pack. The siege engines should definitely shakeup the tactical side of things, and the smaller set battles should quench our thirst when we don't have an entire afternoon to set aside for the full strategic Tolkien slugfest.
Mmmm.. more LoTR warfare goodness. The Battles of the Third Age expansion is set to ship in early March (and that's like, now).
Read More in: Gaming News
Share this Article with others:
Related Articles:
Came straight to this page? Visit Critical Gamers for all the latest news.
Posted by Critical Gamers Staff at March 2, 2006 12:30 PM