Battlestar Galactica RPG Announced by Margaret Weiss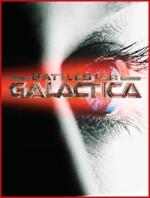 We don't usually cover RPG news here, but this one has us quite a bit excited. Marget Weiss is the co-author of one of our favorite trilogy of novels from childhood - the Dragonlance Chronicles. And the Sci-Fi Channel's B-Star is easily one of our favorite shows airing on TV these days.
Blame the eggnogg: You got Sturm Brightblade in my fraking Starbucks!
From the official press release on Gaming Report: "Like the show, the role playing game book is set in space and will focus on the challenges of survival in exceedingly trying times — and the difficult choices that must be made. The core product, the Battlestar Galactica Role Playing Game, is a self-contained game product using the same game system as the best-selling and award-winning Serenity Role Playing Game (also produced by Margaret Weis Productions). The game book will be a full-color hardcover book featuring still images from the series as well as original artwork. It will provide rules for play, character creation, and information about the ship and crew of Galactica as well as the other main characters from the show. A Quickstart Guide will be released in early 2007 with the core product premiering in the spring. Additional products will closely follow the release of the core product. The entire line will be supported by an interactive website."
We haven't played any of Margaret Weiss' other RPGs (like we said - RPGs really aren't our cup of tea), but we've heard some pretty good things about the fast-playing Serenity RPG, and the BS:G RPG is said to borrow from that ruleset.
But of course we're not blinded by love. Just because two separate things rock on their own (BS:G and the author of the Dragonlance Chronicles) doesn't mean that they'll mesh together into something that also rocks. Take this for example:
In one hand Russ is holding a Scotch. Scotch rocks (unless your under aged, then it's the Satan's swill). In his other hand is a innocent kitten, which is cute, and soft, and therefore also rocks.. But nobody likes scotch soaked kittens. And kitten-aged scotch sounds just about as good as candy corn sausages. Poor Russ. How will you ever drown your sorrows? No, not like that. OK - put the kitten down.
And so our critical minds are a bit concerned. especially given the current state of affairs over at the Margaret Weiss official website. You would think that such a large product announcement would coincide with a killer website launch. You know: with specific details of the bells and whistles of the game system, ready for interested parties to ring and ... well, whistle. But as of right now there's very little there - mostly "Under Construction" links (psst... hide the links if they don't work!). Hopefully the final game won't be quite so sloppy.
So we'll sleep with one open eye until we get more info on this one in 2007. Still, it's got potential.

Read More in: Gaming News | RPGs
Share this Article with others:
Related Articles:
Came straight to this page? Visit Critical Gamers for all the latest news.
Posted by Critical Gamers Staff at December 26, 2006 10:22 AM