George R.R. Martin's "A Song of Ice and Fire" RPG Announced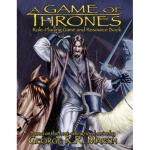 The publisher Green Ronin has announced its plans to produce a Role Play Game around the A Song of Ice and Fire, the fantasy setting made famous my George R.R. Martin series of novels of the same name. We personally don't have much hands-on experience with Green Ronin, but we haven't quite found any bad press about the RPGs either.
Yes, it's true, we're more board gamers than RPG players. For some reason we feel that we've always played RPGs incorrectly. Maybe the years of structured board gaming has squelched our improvisational skills. But to be fair, fighting a goblin one v one with both he and your hero missing 15 rounds in a row.. just doesn't lend itself to the creation of an exciting narrative. At about round 4 you give up describing how totally inept both characters are, and reach for your beer and a keno ticket instead.
But that doesn't mean we can't see a potential successful franchise when it comes and punches in the face. Based on the most popular thread running through Green Ronin's forums, the veteran RPGs company is starting things from scratch, designing RPG systems custom tailored to the A Song of Ice and Fire theme. Considering the source material it's based on, we hope for the best.
What makes this news even more impressive is that HBO announced that is also working on a Song of Ice and Fire series, potentially making a season out of each of the books in the franchise. Oh what a sweet 2008 it might be for G.R.R. Martin. Maybe he can come out of Tolkien's shadow and finally drop the double R's. With all of these new press releases popping up It's seriously beginning to rub us the wrong way.
From the Press Release:

"Green Ronin Publishing has reached an agreement with New York Times bestselling author George R.R. Martin to license his fantasy epic A Song of Ice and Fire. Green Ronin will publish a roleplaying game in 2008 that will allow fans of the series to have their own exciting adventures in Westeros. Subsequent books will continue to explore the world and characters of A Song of Ice and Fire.

"A Song of Ice and Fire is the most exciting thing to happen in fantasy fiction in decades," said Green Ronin President Chris Pramas, "and we are thrilled to be able to bring it back to the gaming world."

"I've had a lot of interest in the role-playing rights to A Song of Ice and Fire since they became available once again," said George R.R. Martin. "There were days I felt like Scarlett O'Hara at the Twelve Oaks barbeque. In the end, though, the enthusiasm and professionalism of the folks at Green Ronin convinced me that was the place to go. I've seen the quality of the games that Green Ronin puts out, and the care that they put into them, and I'm eager to see what they do with the world of Westeros and A Song of Ice and Fire. I think my fans and readers will be pleased."

Green Ronin has already done successful RPG adaptations of fantasy classics like Thieves' World and the Black Company. "Creating a great RPG for A Song of Ice and Fire seemed like the perfect next step," added Pramas. "2008 is going to be a great year for fans of George R.R. Martin's work."
The full press release is available on the Green Ronin Website.
Read More in: Gaming Culture | Gaming News | RPGs
Share this Article with others:
Related Articles:
Came straight to this page? Visit Critical Gamers for all the latest news.
Posted by Critical Gamers Staff at April 26, 2007 1:27 PM