D&D 4TH Edition: Where are the Miniatures, Wizards of the Coast?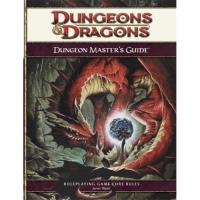 A major shift of the new D&D 4th Edition is its strong emphasis on positional combat. Melee class push mobs from square, sweep based on position, and get and give buffs depend on their proximity to both monsters and fellow party members. This new level of tactical play adds a requirement of gridded terrain maps on the table and figures to represent bodies on the field.
This shift in combat mechanics has gotten some prerelease flak recently, but we're actually pretty big fans of it. There's nothing like coordinating attacks through smart positional tactics - fighting side by side and working combos to beat back the beasties from dimension X.
Here's the thing though - both the Players Handbook and introductory adventure Keep on the Shadowfell have suggest that players should represent their characters no the tactical map by buying into a second D&D franchise, also run by Wizards of the Coast: the D&D Tradable Miniatures Game. In practice this solution stinks, largely due the nature of collecting pieces in a Tradable or Collectible miniatures or card game. It also slightly stinks of the cross pollination of two WoTC cousin franchises for the purposes of greed (?), but if the coupling were more streamlined then this secondary beef could have been completely overlooked.
The officially suggested D&D figures come a separate Collectible Miniatures game with standalone combat rules, numerous set releases, and maps galore. The heart of your miniatures collection beings with the starter set release, which contains a stock set of figures with a few random ones thrown in, which can be further enhanced through boosters with a rarity distribution like mainstream TCG/CCG games like Magic: the Gathering and World of Warcraft.
We don't have a beef with the game itself, but these are the figures that WotC suggest we use? Finding a figure to represent a particular player class and race isn't a straight forward over-the-counter purchase; there's no single box you can buy that grantees you'll get the figure you need. You can purchase specific figures from online hobby stores, but then you're paying preium for the rarity distrubtion. If you're looking to play an elven cleric, and that figure is rare in the D&D minatures games, then you're going to have to pay inflated prices to get your figure.
Even worse are the DM's woes. How is the DM supposed to afford or even procure enough figures of a certain type to accurately represent the self designed encounters. or even to represent the encounters detailed in the official modules?
Take the opening few battles of Keep on the Shadowfell for instance, which have large groups of a similar type of creature (we won't spoil anything else for you new players aside from that.) In order to fulfill the full ranks of the specific creature type the DM would be forced to either: find a store that actually offers 10 or so of the figures for sale individually (which is already difficult today, let alone a few weeks from now), or buy and open booster packs of 12 random figures, hoping to get a hold of enough of the creature type we actually want.
Alternatively, we could buy a whole set, but which one? There are many different set releases, and the base set with all of the common creature types is the oldest one on the market; it now retails for 550 bucks - if you can find a complete collection. And even if we do then we receive 1 figure of each of the 80 creatures / characters s in the set. As a third alternative we could be driven to Ebay to buy specific figures from other people's collections at auction. Hardly an official way of getting your D&D game on.
We understand that Wizards of the Coast couldn't just start selling figurines in large batches left and right, since that would undermine their other D&D miniatures product line. But here's an obvious and easy alternative: ship little cardboard discs with mug shots of different creature types. It wouldn't be as high fashioned as a miniature, but it satiate the customer demand for character & monster representation, the demand created by the major push of the new D&D 4th Edition combat system without a legtamate implementation.
For now we're all stuck either playing with buttons and lego men, ordering figures from another fantasy franchise (which there are few of), or dumping gobs of money into a secondary Wizards of the Coast franchise like cross eyed buffoonery.
This is either a very sloppy way - or a very greedy way - to treat an audience upon release.
Read More in: Gaming Culture | RPGs
Share this Article with others:
Related Articles:
Came straight to this page? Visit Critical Gamers for all the latest news.
Posted by Critical Gamers Staff at June 11, 2008 2:00 PM