D&D 4th Edition Adventure's Vault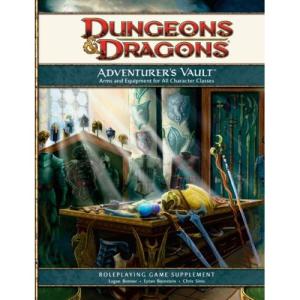 Here's a sweet sourcebook pickup that extends the standard collection of Items and Magic Items found in the D&D 4th Edition Players Handbook or the D&D 4th Edition Dungeon Master Guide.
This D&D 4th Edition Adventure's Vault [Amazon, Funagain] is perfect for anyone looking to find a larger selection of standard item types. It also extends some of the more expensive items including new armor and weapon types, which makes it a great starting point for new characters that plan to join higher level groups. Additionally, have the book details a wide collection of balanced magical items that could supplement work by the DM, or serve as a standard for a DM to make a set of balanced magic items of his or her own.
The items are presented in charts, so if you're looking for in depth backstory and details of the equipment then you may be disappointed. This isn't a huge deal to us, honestly; Half the fun is the creating the narriative to these items via interesting adventure creation from the DM, and the wants and needs, and styles of the Players themselves.
For more reviews checked the D&D 4th Edition Adventure's Vault page on Amazon.
Here are the official details:
---

"Hundreds of new weapons, tools, and magic items for your D&D character.

This supplement for the Dungeons & Dragons game presents hundreds of magic items, weapons, tools, and other useful items for your D&D character. Whether you're a player looking for a new piece of equipment or a Dungeon Master stocking a dragon's hoard, this book has exactly what you need.

The book features a mix of classic items updated to the 4th Edition rules and brand-new items never before seen in D&D."

---
Read More in: Gaming News | RPGs
Share this Article with others:
Related Articles:
Came straight to this page? Visit Critical Gamers for all the latest news.
Posted by Critical Gamers Staff at October 8, 2008 1:44 PM