Battlestar Galactica RPG Quickstart Previews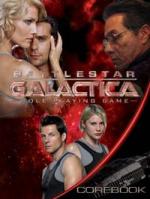 Faithful readers should know that the Battlestar Galactica RPG has been on our Gaming Radar for quite some time. But since publisher Margaret Weiss Productions first announced the BS:G RPG nearly a year ago by, they've been tight lipped on any and all development news about the game. In fact, their own website has donned a makeshift "under construction" page for almost a year now, with nothing changing over a dry spell eight months except for a few dust bunnies slinking about in the background. We started mumbling amongst ourselves that that the BS:G RPG had gone the way of the dodo.
Then a few weeks ago Margaret Weiss Productions trickled some news that the BS:G RPG would appear at GenCon (last week), and gave some details about the two feature products: The Quickstart Guide and The Core Rulebook [our story].
Now that Gen Con has come and passed, some attendees are beginning to write about their experiences with the game. First and foremost a great preview/review read of the Battlestar Galactica RPG Quick Start Guide on RPG.NET [story]. This article seems to be the most detailed about what you should expect from the game, including the Quick Start rules about character abilities, combat, and some impressions on the game's use of story mechanics. Also there are quite a few details about the first adventure that ships with the game, with careful thought not to include any spoilers.


Once you get a idea of whats-what, check out this page on DriveThruRPG.com. It includes a PDF file of the Quick Start Guide's and a free preview of the first seven pages. The RPG.net story mentioned that the game was well-polished, and as we read through these pages we could see what they mean. Definitely some well-written stuff.
We hear that the Core Rulebook will include some beefier combat mechanics. The Quick Start Guide includes some really simplistic dice rolls and modifiers, without much room for doing too many out-of-the-box things. We'd like to see some things like firing from behind cover, suppressing fire – some military tactic stuff - because the new BS:G series has some pretty militaristic themes going on, and so we're thirsting for it to appear here. Also, we really hope that the Core Rulebook has ship combat. It must. It better.
We'll find out soon. Both the Battlestar Galactica RPG Quicksart Guide and the Core Rulebook are slated to ship in September.
Our other BS:G RPG Stories:
Read More in: Gaming News | RPGs
Share this Article with others:
Related Articles:
Came straight to this page? Visit Critical Gamers for all the latest news.
Posted by Critical Gamers Staff at August 20, 2007 1:45 PM