Battlestar Galactica RPG Appears on DRADIS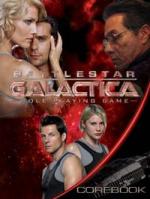 Fall is here which means we're entering the new season of Television, and glaringly absent from the season's lineup is one of our favorite: Battlestar Galactica. With its final season postponed until January we won't get any BS:G goodness until after the holidays. Boo.
But lucky for us the Battlestar Galactica role playing game is slated for release in just a week's time.
Loyal readers will already know that BS:G RPG is produced by Margaret Weiss Productions, the author behind the Dragonlance Chronicles and the company behind the Serenity RPG. Serenity was a quiet yet well-received release. It had some problems, yes -- given that it was Margaret Weiss Productions' first RPG product it sported a somewhat independent / low-production level feel the game materials had some flaws like spelling errors, lacked well-rounded components like character sheets, etc. But in the end the source material and gameplay shined-through strong enough to entertain most gaming fans of the Firefly series.
Now Margaret Weiss Productions hopes to follow-up with the BS:G RPG, and to an even large base audience. With only a week away it's now crunch time for the BS:G RPG publicists to lure in the droves of hungry Galactica fans, yet the small production house is stumbling and currently lacks a publicity blitz. Someone there needs to work more on marketing, we thinks. So consider this our blitz on their behalf.
Note that we haven't gotten our hands on the game yet ourselves so we don't know if it'll be worth the BS:G fan's time. After our preview scouring our gut tells us: yes. Still, those of you who are interested should check out this great review on SCIFI.com for yourselves. It seems that trend of spelling errors remain, but the source materials are of higher quality and mainstream components like character sheets are included. The gameplay seems improved as well, with plot-point mechanics that lure players into roleplaying encounters. These plot points can then be used to avoid certain death in dire situations, like re rolling dice tosses in brutal firefights against Centurions.
Those looking for a community presence should checkout the BS:G Forum on cortexsystemrpg.org. Here other players discuss adventure ideas, clarify rules, and offer feedback and opinions on the game's systems. It's also the perfect place to gauge how well this game will play upon release.
We'll let you know when the BS:G RPG hit game stores. Should be only a few days from now… hands.. shaking. We hope this one carries us at least until the release of D&D 4th Edition next Spring.

Read More in: Gaming News | RPGs
Share this Article with others:
Related Articles:
Came straight to this page? Visit Critical Gamers for all the latest news.
Posted by Critical Gamers Staff at September 21, 2007 3:05 PM