All Flesh Must Be Eaten - A RPG for Zombie Lovers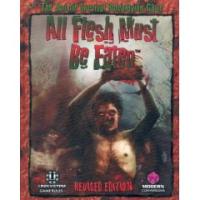 We originally came across All Flesh Must Be Eaten [Amazon] earlier this week in the Ars Technica gaming forum. This fantastic post traces an impressive RPG campaign as players escape a zombie ridden cruise ship, hack their way through an overridden Disney amusement park, and eventually scramble their way out into the wilderness and refuge of a wildlife refuge. There the campaign shifted from the dangers of Zombies themselves to those of the post apocalyptic survivors vying for control of the few resources left in the starved world.
The details of this campaign tickled our brains so much that we dove into more of the All Flesh Must be Eaten source materials. And there is a lot, and it all seems really, really good.
We love zombies, and we like RPGs, so we're not quite sure how a system like this sneaked up on us while we weren't looking. Thankfully it hit us in the head before D&D 4th Edition sucked us in 'cause there's plenty of zombie-hacking good times to be had between now and June.
Read More in: RPGs
Share this Article with others:
Related Articles:
Came straight to this page? Visit Critical Gamers for all the latest news.
Posted by Critical Gamers Staff at February 22, 2008 3:39 PM