D&D 4th Edition Player's Handbook 2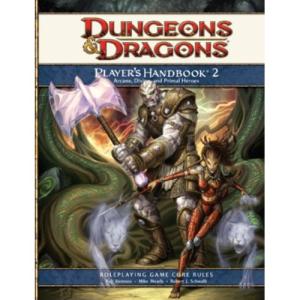 Almost the year after the D&D 4th Edition release, the launch of the D&D 4th Edition Players Handbook 2 [Amazon, Funagain] is upon us. This isn't a scheduled supplemental update, but a standalone release that fully extends upon the 4th edition content. The book contains 8 new classes, new races, and doubles the amount of abilities (800 more) available to players creating the characters from scratch.
But is this all entirely fluff? Is this just a heartless, careless production meant to consume your hard earned dollar while putting the play balance of the game in jeopardy?
Seemingly no. A great PHB 2 Preview at Gnome Stew has emerged from a GM who seems to have better credentials alone than our entire amassed RPG experience. It's actually quite gushing, a little meandering, but a fantastic summary of what you can expect between the covers.
---

So what does it say about the PHB 2 that with eight new classes, there's zero new overlap? Bingo: the eight new classes weren't just phoned in -- they're fully realized classes in their own right, not just variations on old themes.



---
The preview goes on to say how well flavored the abilities, and how the classes extend upon the positional combat mechanics, each in their own interesting way. Best of all, according to the preview, there's "zero power creep." Awesome. We'd hate to have our well earned character levels become obsolete.
Here are the D&D 4th Edition Players Handbook 2 official details:
---

Player's Handbook 2 expands the range of options available to D&D players with new classes, races, powers and other material. This book builds on the array of classes and races presented in the first Player's Handbook, adding both old favorites and new, never-before-seen options to the game. The book adds a new power source for 4th Edition D&D: classes using the new primal power source include the barbarian and the druid.

---
The D&D 4th Edition Players Handbook 2 is now available from Amazon and Funagain Games.

Read More in: Gaming News | RPGs
Share this Article with others:
Related Articles:
Came straight to this page? Visit Critical Gamers for all the latest news.
Posted by Critical Gamers Staff at March 16, 2009 4:57 PM